Your Information Resource for Vintage Baseball Cards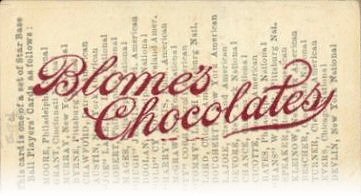 H

ello

v

intage card collecting friends!

Welcome to

Old Cardboard

,

the

most complete

reference resource

for information

about

collecting vintage baseball cards

and related memorabilia

.

More information about this eNewsletter and its companion website and magazine are found at the bottom of this page.
Contents:
1. Updated Auction and Show Calendar
2. Reader Participation Welcome and Appreciated
3.
Old Cardboard Magazine

Distribution Status (an update)
5. Collector Qustions--Hage's Dairy
------------------------------------------------------------------
1.

Updated Auction and Show Calendar*
The following is a summary of vintage card events coming up in the next 30-45 days. F
or details

on all upcoming vintage card shows and auctions

see the auction calendar on the Old Cardboard website

.
October 2004
22nd Internet MastroNet

Classic Collector Auction
22nd Internet 19thCenturyOnly

Auction
November 2004
1-12 Internet CubanBaseballCards.com

Winter Auction
3-4 Internet Lew Lipset Auction
6 Louisville/Internet Hunt Auctions
11 Catalog/Internet Mile High Card Company

Premier Catalog/Internet Auction
12-14 Cleveland Tri-Star Show at I-X Center
17 Internet Memory Lane

Buried Treasures Auction
17-18 Catalog/Internet Collectible Classics

Catalog/Internet Auction #5
*To add an auction or vintage show date to our calendar just send an email to brett@oldcardboard

.com
and we'll be happy to post it for you.
The

designates an Old Cardboard website sponsor

.
---------------------------------------------------------------------------------
2

. Reader

Participation

Welcome and Appreciated
The quality of the subjects covered in Old Cardboard magazine is to a large extent determined by you, our subscribers and readers. Now that the inaugural issue is out, you can see first hand the general format of each section--a format that will continue for future editions. We invite all readers to consider submitting articles, interesting new finds for the Editor's Notebook, brief personal profiles for Collector's Dugout and other feedback. Both the staff at Old Cardboard and your fellow collectors will thank you for your participation.
------------------------------------------------------------------------------

-------

---------
3

. Old Cardboard Magazine

D

istribution Status (an update)
By now just about all subscribers should have received their copy of the inaugural issue of Old Cardboard Magazine. However, we continue to get reports that copies are still being delivered to some subscribers and that a few have not yet been delivered. The distribution of the magazine after we delivered it to USPS has been the most disappointing aspect of getting the first issue launched.
We are monitoring the distribution process very closely and looking for ways to reduce the delivery times for future issues. Earlier this week

we

held a very constructive meeting with the key person at the USPS regional station responsible for bulk and periodical mail. We are looking at all possible options for reducing the magazine delivery time once it gets to USPS.
However, it looks like we will be following the same process used for the first issue for at least one more cycle. By then paperwork should be completed and approved to gain USPS "Publication" status which will hopefully result in a somewhat faster delivery.
Meanwhile

,

we

assure you that we are very serious about meeting our promised schedules and will take all reasonable measures to do so. We appreciate your patience and your support.
-------------------------------
For this month's set of the month, we will take a brief look at the back variations of two different sets. One was issued in 1911 by the George Close Candy Company of Cambridge, MA and the other was produced in 1943 by M. P. & Co. of New York, NY. Both sets are known for the several variations found on the card backs as well as the fronts.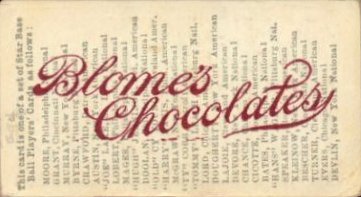 a) 1911 George Close Candy (Hobby designation: E94). Each of the 30-cards in this set was printed in a variety of solid color backgrounds including green, red, blue, purple and gold. The card backs contain a printed checklist of all 30 players in the set. In addition, the card backs are sometimes found with a color "overprint" advertising one of the company's several candy products. An example of one overprint, for Blome's Chocolates," is shown here.
The overprints are not frequently encountered and several of the 10 known overprint variations are quite rare. In fact, the 10th variation, "Oh You Fan," was only discovered in the last few years--at the 2002 National Convention in Chicago. Collector Leon Luckey has recently completed the only complete set of all known back variations. All ten backs are shown on the Old Cardboard website (see George Close Candy link above) and will be displayed in the Editor

,

s Notebook section of the next issue of Old Cardboard Magazine (Issue #2, Winter 2005).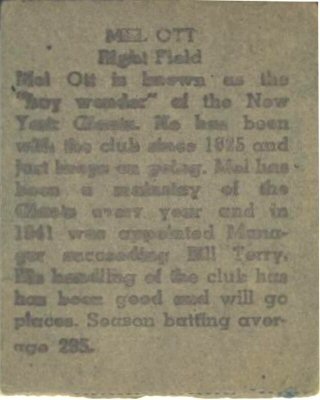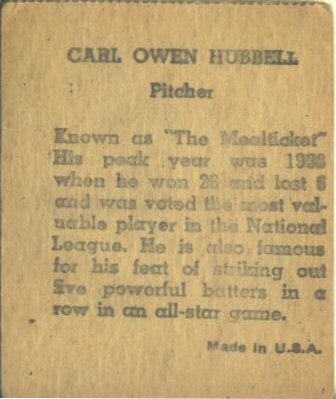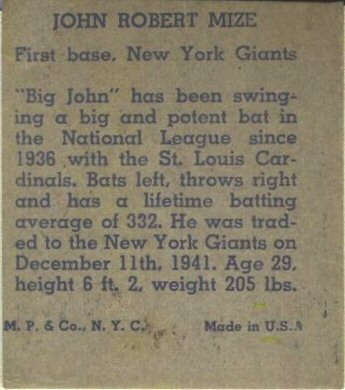 b) 1943 M. P. & Co. (Hobby designation: R302-1). Another set that has intrigued collectors because of its back variations is this crudely printed and often roughly hand cut issue. It is one of the very few baseball sets produced during the second World War. Three different back variations are shown at right--based primarily on the format and use of the team name in the title and the inclusion (or exclusion) of the M. P. & Co. imprint and the "Made in U.S.A." imprints at the bottom of the card. Other variations, however, have also been identified.
Collector Ronald Rembert, who provided the example images shown, has been collecting and researching variations in the 1943 M. P. & Co. set for some time and would like to compare notes with others who may have done the same. He is also interested in any information relating to the M. P. & Co. of New York City. Ron can be contacted at rrembert@wilmington.edu. The results of his study will be reported in a future issue of Old Cardboard Magazine.
----------------------------------------------------------
5. Collector Question--Hage's Dairy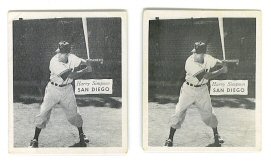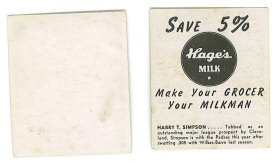 Collector Corey Coljeski has recently discovered about 100 Hage's Dairy cards and would like to get in touch with others who collect the set. In particular, he is interested in learning about the many variations known for the set and notes that some of the cards have ad/stat backs while others are blank backed (see examples above for the two back variations on cards of player Harry Simpson).
Corey can be contacted at Firedawg45@aol.com.
***********************************************************************
Old Cardboard, LLC. was established in December, 2003, to help bring information on vintage baseball card collecting to the hobbyist. Produced by collectors for collectors, this comprehensive resource consists of three components: (1) Old Cardboard Magazine, (2) a companion website at www.oldcardboard.com, and (3) this eNewsletter.
The Old Cardboard website contains more than 500 pages of descriptive reference information for baseball card sets produced before 1950. Each of these set summaries has a direct set-specific link to

auctions and a similar link to

's powerful search engine for further research. The website also includes a Show and Auction Calendar, an eBay Top 50 Vintage Sellers List, and much more. As a result, the Old Cardboard website makes a great "Alt-tab" companion for vintage card shoppers and researchers.
Old Cardboard eNews provides current hobby news, upcoming shows and auctions, and updates to the website and the magazine. It is published around the middle of each month. For a FREE subscription to the eNewsletter, or for subscription information on the newly launched Old Cardboard Magazine, please visit the home page of the website at www.oldcardboard.com.
If you find th

is

information

resource

helpful, please tell your friends. We need your support and your feedback. Thank you.
Best regards,
Brett Hardeman
Old Cardboard Magazine
512-249-0062