---
4. OC Set of the Month: 1916 H801-8 Boston Store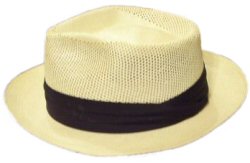 Beginning long before we launched Old Cardboard, Brett has been hosting weekly Texas Hold'em poker tournaments here in Austin. The Monday night events seem to jump start each week with a bit of a challenge for all who attend. To add some much needed spice to my poker "image" at the three-table tournaments, I recently purchased this vintage Panama hat on eBay. Although it may not appear that the hat has anything to do with baseball card collecting, I should point out that it was originally sold by Boston Store. They're the same department store folks that also sponsored a 200-card set in 1916 (some say 1917). The cards were later listed in the American Card Catalog as set H801-8.
Contrary to its name, Boston Store was NOT located in Boston. For more than 100 years it has operated stores in Chicago as well as several locations in Wisconsin and other mid-western states. It's merchandise includes an assortment of apparel for men, women, teens and children along with a full line of home furnishings. The chain continues to operate and is now a part of the Saks Department Store Group.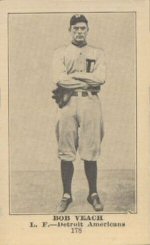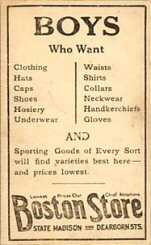 The Boston Store cards themselves display full-body black-and-white poses for each of 200 players of the period (see example at left). Each card front is labeled at the bottom with the player's name, position, team and the card sequence number.
The Boston Store set checklist and card fronts are the same as set E135 distributed by the Collins McCarthy Candy Company on the West Coast. The same poses are also found in "bakery" sets distributed by Weil Bakery of New Orleans and Standard Biscuit Company of San Francisco.
Although somewhat more obscure than the Collins-McCarthy issue, the Boston Store cards continue to attract collectors and seem to have received an unusually high level of attention over the past few weeks. The Bobby Veach card shown here sold on eBay in late March for a whopping $471.44. Although the Veach card was graded (some say overgraded) as a very nice "Near Mint," there is only one explanation for such a card of a common player to sell at that level: two people that really wanted it bid whatever they thought it would take to win the auction. Of the eight different bidders, the other six would-be buyers all bid one-third of that amount or less.
In commenting on the auction, collector and OC subscriber Jim "JC" Clarke seemed convinced that "the winner ended up with sticker shock!" Clarke, who was not one of the bidders in the auction, further noted that a number of other good-condition common cards from the set have recently sold in the $25-to-$75 range.
Clarke is a big fan of the issue and has now acquired a nearly complete set including the big three and all of the HOFers. "Where else can you get Joe Jackson, Babe Ruth, Ty Cobb and many other HOFers in one set produced during these early years?" he asks.
Now might be a good selling opportunity for someone who owns any of Clarke's missing cards. "Not counting variations, I only need seven more 'commons' to complete my set," he told Old Cardboard, adding that "I will pay way over book to finish it." His missing cards are: #19 Burns, #22 Bush, #39 Davis, #71 Heilmann, #181 Walker, #194 Wood and #198 Young.
---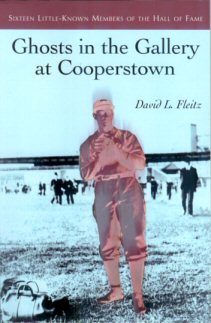 5. Book Review (Fleitz, Ghosts in the Gallery at Cooperstown)

What do Jack Chesbro, Candy Cummings, Elmer Flick and Vic Willis have in common? For one, they are all members of baseball's honored Hall of Fame in Cooperstown, New York. These and another dozen of baseball's lesser known HOFers are the subject of this book, researched and written by David Fleitz. Ironically, Fleitz is also author of the award winning Shoeless: The Life and Times of Joe Jackson, who is the best known ballplayer that is NOT in the Hall of Fame.

Ghosts contains biographical and statistical information on sixteen often overlooked Hall of Famers. The players are all selections of the sometimes-criticized Veterans Committee. However, as Fleitz discovered in researching the book, all sixteen subjects enjoyed remarkable careers and all were in themselves remarkable stories. In addition to the four players named above, they include: Morgan Bulkeley, Roger Bresnahan, Jesse Burkett, Kid Nichols, Bobby Wallace, John Clarkson, Eppa Rixey, Jake Beckley, Roger Connor, Vic Willis, Willie Wells, Frank Selee, and Bid McPhee, with a chapter devoted to each.

The book serves to acquaint the reader with each player by providing well organized details that are relatively inaccessible from other sources. Of perhaps greatest interest to collectors are the vintage cards used to help illustrate the book. These include examples from the N172 Old Judge set as well as N28 Allen & Ginter, N300 Mayo Cut Plug, T204 Ramlys, and B18 "blankets." The pages are also amply illustrated with numerous photographs including many from the author's personal collection.

David Fleitz, Ghosts in the Gallery at Cooperstown (McFarland & Co., North Carolina, 2004)