---
6. Name That Place (and That Player)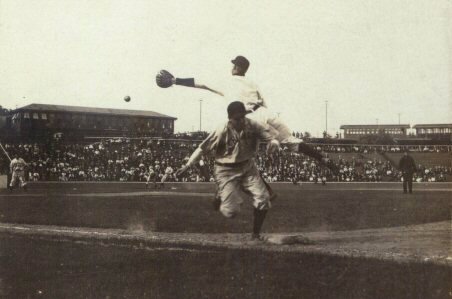 (click on image to magnify center portion)

Due to the strong response and interest in the "Name That Place" write-up in our June eNewsletter (eNews Issue #14), we have followed-up with another challenge for our readers. We need your input to help identify the vintage photo (both the ballpark and the base runner in the foreground) shown at right.

As seen, the photograph this month is packed with action. The image was found on a 3-D stereo view produced by H. C. White Company, a major manufacturer of stereographs during the first decade of the twentieth century. The company was headquartered in Bennington, VT and had offices in New York, Chicago and London before going out of business in 1912.

The game was played around 1908 (give or take a couple of years). The base runner in the foreground is wearing a "Chicago" jersey.

Reader Challenge #1: The first challenge is to identify the ball park in which the game was played. Hint: The "structures" in the background on the right side of the image appear to be empty rail cars in which some of the fans were transported to the game.

Reader Challenge #2: The second challenge is to identify the base runner in the foreground. Hint: Just click on the image above to get a magnified view of this player that clearly shows the "Chicago" on his jersey as well as more detailed facial features.

REWARD: The first reader to answer either challenge along with minimal supporting "documentation" wins a free set of Old Cardboard's Vintage Type-Card Gallery Prints. Documentation could be simply a description or convincing rationale, or another photo (or baseball card) with a similar view/pose to compare with the ones shown here. Good luck, and we look forward to hearing from you. --OC Staff
---
Lyman and Brett Hardeman
Old Cardboard, LLC.
Old Cardboard, LLC. was established in December, 2003, to help bring information on vintage baseball card collecting to the hobbyist. Produced by collectors for collectors, this comprehensive resource consists of three components: (1) Old Cardboard Magazine, (2) a companion website at www.oldcardboard.com and (3) this eNewsletter. The Old Cardboard website contains more than 500 pages of descriptive reference information for baseball card sets produced before 1950. Each of these set summaries has a direct set-specific link to

auctions and a similar link to

's powerful search engine for further research. The website also includes a Show and Auction Calendar, an eBay Top 50 Vintage Sellers List, and much more. As a result, the Old Cardboard website makes a great "Alt-tab" companion for vintage card shoppers and researchers. Old Cardboard eNews provides current hobby news, upcoming shows and auctions, and updates to the website and the magazine. It is published around the middle of each month. For a FREE subscription to the eNewsletter, or for subscription information on Old Cardboard Magazine, please visit the website at www.oldcardboard.com. If you find this information resource helpful, please tell your friends. We need your support and your feedback. Thank you.
Note: To Unsubscribe to this eNewsletter, just send a reply email with "Unsubscribe" in the subject line.