---
4. Book Review: Smithsonian Baseball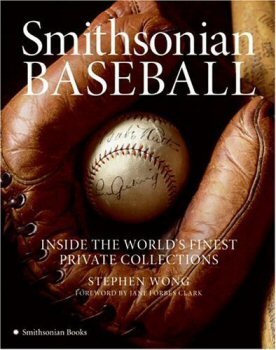 Some of baseball's finest artifacts and most historically significant memorabilia are part of private collections--without the public access afforded extensive collections such as those at the Smithsonian Museum in Washington, DC or at the popular National Baseball Hall of Fame and Museum in Cooperstown, NY.
To bring the very best of these private collections into the public light, author Stephen Wong devoted the past several years to interviewing, researching and documenting twenty-one of them. The result is his landmark book, Smithsonian Baseball: Inside the World's Finest Collections, released earlier this month.
The compendium contains more than a thousand color photographs presented on nearly 300 oversized (9-1/2 by 12 inch) pages. A chapter is devoted to each of the 21 collections (including the final chapter about the author's personal archives).
Some of the collections profiled in the book are all-encompassing; others focus on a specific era or type of memorabilia--game-used bats, for example, or folk art, or celluloid pin-back buttons. One collection features only memorabilia from the 1969 Chicago Cubs season; another comprises items from overseas exhibition tours from the late 19th and early 20th centuries. Some of the most valuable vintage baseball cards are in these collections, including the famous T206 Honus Wagner, the highest graded set of 1915 Cracker Jacks, and a gem-mint condition 1952 Topps Mickey Mantle. A father-daughter collecting duo has an impressive collection of World Series scorecards and programs, dating back to the inaugural series in 1903.
By the numbers, chapter themes (and the associated collections from which they are based) are:
&nbsp(1)&nbsp 19-Century Memorabilia (Corey R. Shanus Collection)
&nbsp(2)&nbsp Vintage Baseball Games, Toys and Coin-Op. Machines (Mark W. Cooper Collection)
&nbsp(3)&nbsp Historical Evolution of the Baseball, Glove, Bat... (Greg Gallacher Collection)
&nbsp(4)&nbsp Vintage Advertising Display Signs, Movie Posters... (Gary Cypres Collection)
&nbsp(5)&nbsp T206 White Border Series (Brian Seigel Collection)
&nbsp(6)&nbsp Game-Used Bats, Uniforms... (Richard C. Angrist Collection)
&nbsp(7)&nbsp Game-Worn Uniforms and Jerseys (Nick Depace Family Collection)
&nbsp(8)&nbsp Vintage Photography, Advertising Epherera... (Marshall Fogel Collection)
&nbsp(9)&nbsp World Series Scorecards and Programs (James and Lauren Clister Collection)
(10)&nbsp Celluloid Pin-Back Baseball Buttons (Robert Edward Lifson Collection)
(11)&nbsp Vintage Ballpark Relics and Postcards (B's Ballpark Museum Collection)
(12)&nbsp Baseball Fold Art and Memorabilia (Penny Marshall Collection)
(13)&nbsp Vintage High-Grade Baseball Cards (Charles M. Merkel Collection)
(14)&nbsp Baseball Trophies, World Series and Pennant Rings (Ron Leff Family Collection)
(15)&nbsp Memorabilia from Overseas Baseball Exhibition Tours (Bill Sear Family Collection)
(16)&nbsp Vintage Advertising Display Signs and Ephemera... (Bill Mastro Collection)
(17)&nbsp St. Louis Cardinals and Browns Memorabilia... (Bill DeWitt Family Collection)
(18)&nbsp Autographed Photographs (David Bowen Collection)
(19)&nbsp 1969 Chicago Cubs Memorabilia (Dan Knoll Collection)
(20)&nbsp Record-Breaking Home Run Baseballs (Todd McFarlane Collection)
(21)&nbsp Game-Worn Jerseys, Bats and Memorabilia (Stephen Wong Family Archives)

In addition, those who contributed articles with side-notes on collecting tips and other perspective include David Bushing, David Hunt, Anne Jewell, Dan Knoll, Bill Mastro, Cory Shanus, Barry Sloate and Kevin Struss.
While several chapters are devoted exclusively to baseball cards and pinback buttons, vintage baseball cards are discussed and illustrated throughout the volume. Old Cardboard highly recommends the book as a beautifully illustrated and informative resource.
Stephen Wong, Smithsonian Baseball: Inside the World's Finest Collections (HarperCollins Publishers, New York, NY, 2005). Further information about the book and how it can be purchased is available on the HarperCollins website.
---
5. 1920s W542 "Sports Drawings" Strip Card Set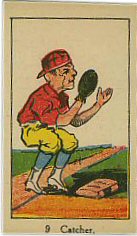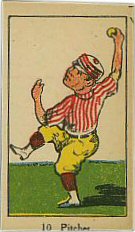 The relatively obscure W542 "Sports Drawings" strip card set is no doubt near the bottom of most vintage baseball collector's want lists (and that's assuming that the cards ever made the list at all). Of the ten cards known to be in the set, only two (shown here) relate to baseball. The others represent various other sports including boxing, tennis, golf and hockey.

The set's main claim to fame is its listing in the American Card Catalog. The ACC listing describes it under the Strip Card section as "Sports Drawings (10 seen) 1-1/2 x 2-5/8, Anon. (1 Training, 2 Cricket, 3 Tennis, 4 Boxing, 5 Athlete, Etc.)." According to the 40+ year old reference, value is four cents per card!

Partly because "baseball" is not indicated in either the title or the set description in the ACC entry, the set has gone virtually unnoticed among vintage baseball collectors. Perhaps the key reason for the W542 set's lack of popularity among collectors, however, is that it is devoid of real player images or even labeling of any player names. In that sense, the set is very similar in design and format to the W552 Baseball Positions Drawings, which may be more familiar to some vintage collectors.

On a more positive note, the W542 cards do have plenty of color and a certain attractiveness (if not charm) to them. Further, the cards give type collectors an inexpensive way to help complete their vintage baseball type sets of ACC-listed baseball issues. The cards shown here (plus the eight additional cards needed to complete the 10-card set) recently sold on eBay for under $35.

Note: A summary page for the W542 Sports Drawings Strip Card Set has been added to the Old Cardboard website.


---
6. Follow-up to Last Month's "Name That Place" Contest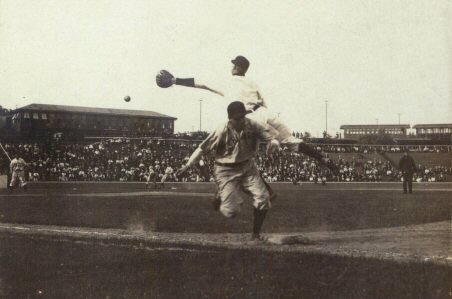 (click on image to magnify center portion)

We never cease to be impressed (if not absolutely amazed) at the collective baseball knowledge of our readers. Once again, you have come through with detailed and well documented answers to our photo-challenges--this time to last month's "Name That Place" contest.

The first reply to the photo-challenge in our last eNewsletter (and winner of a set of Old Cardboard vintage Type-Card Gallery Prints) came in at 10:26 pm on September 13, the same evening that the eNewsletter was distributed. The response was from none other than our favorite baseball-card-collecting sports commentator, Keith Olbermann. Olbermann correctly identified the ballpark in the photo as the Polo Grounds in New York City.

By far the most detailed response, however, was that provided by Tom Shieber of Cooperstown, NY. Shieber's reply is summarized as follows:
The jerseys of the runner and first baseman match Chicago-NL (road) and New York-NL (home) jerseys of 1906 and 1907. Source: Marc Okkonen research as presented in "Dressed to the Nines" online exhibit sponsored by the Baseball Hall of Fame and Museum. [Editor's Note: based on Shieber's detective work and a closer look at the image, we have narrowed the date of the game to 1906]

The ballpark is the Polo Grounds in New York City. The key is the building at left and the foul-territory bleachers in front of the building. Compare with the picture below found on the Library of Congress web site. [Note: the LOC image is reproduced below. --Ed.]

According to retrosheet (www.retrosheet.org), the Cubs played in New York during the 1906 season on the following dates:

1906: June 5, 6, 7, 8; August 4, 5, 6, 8; and September 21, 22, 24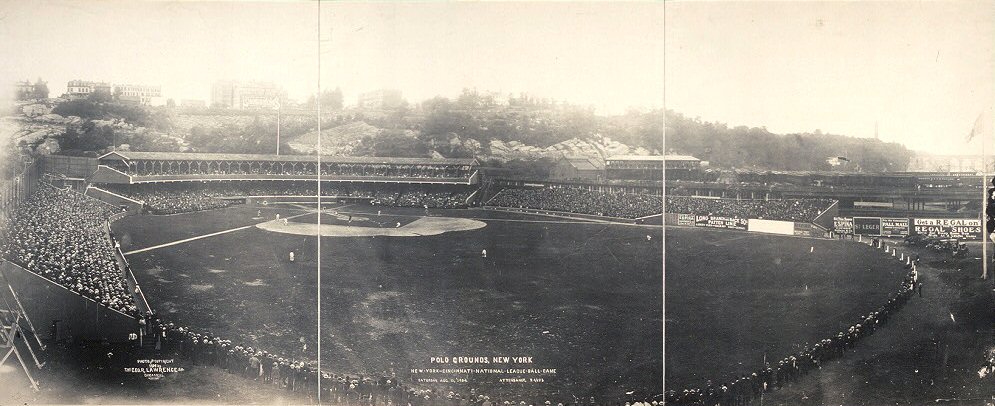 Polo Grounds, New York, New York (Cincinnati vs New York) Saturday, Aug. 13, 1904), attendance 24,625

Even when greatly enlarged, the quality of the first image above makes identifying the runner somewhat more challenging. The most credible guess so far came from Kevin Kearney of Glendale, AZ, who believes that the player is Frank Schulte. Schulte played outfield for the Cubs that season. For his "best guess," Kearney also has been awarded a set of Old Cardboard vintage baseball card Gallery Prints

.

Frank Schulte's teammates (and other possible players that might be the runner in the picture) include Johnny Kling (C), Frank Chance (1B), Johnny Evers (2B), Harry Steinfeldt (3B), Joe Tinker (SS), Jimmy Sheckard (OF) and Jimmy Slagle (OF). The runner in the picture could of course also be from the 1906 Cubs pitching staff or a backup utility player on the team.

With the possibilities now significantly narrowed, we invite any of our readers to positively identify the player by use of a comparison photo. The person who sends the photo that most resembles the player in the enlarged image in the photo above (click on image to enlarge), also wins a free set of Type-Card Gallery Prints. To qualify, the digital image must be received not later than Halloween (October 31). Please send all entries to editor@oldcardboard.com.

Thanks again to all for some very interesting and informative feedback.
---
Lyman and Brett Hardeman
Old Cardboard, LLC.
Old Cardboard, LLC. was established in December, 2003, to help bring information on vintage baseball card collecting to the hobbyist. Produced by collectors for collectors, this comprehensive resource consists of three components: (1) Old Cardboard Magazine, (2) a companion website at www.oldcardboard.com and (3) this eNewsletter. The Old Cardboard website contains more than 500 pages of descriptive reference information for baseball card sets produced before 1950. Each of these set summaries has a direct set-specific link to

auctions and a similar link to

's powerful search engine for further research. The website also includes a Show and Auction Calendar, an eBay Top 50 Vintage Sellers List, and much more. As a result, the Old Cardboard website makes a great "Alt-tab" companion for vintage card shoppers and researchers. Old Cardboard eNews provides current hobby news, upcoming shows and auctions, and updates to the website and the magazine. It is published around the middle of each month. For a FREE subscription to the eNewsletter, or for subscription information on Old Cardboard Magazine, please visit the website at www.oldcardboard.com. If you find this information resource helpful, please tell your friends. We need your support and your feedback. Thank you.
Note: To Unsubscribe to this eNewsletter, just send a reply email with "Unsubscribe" in the subject line.