---
5. Recently Unveiled Postcard is Josh Gibson's Earliest Card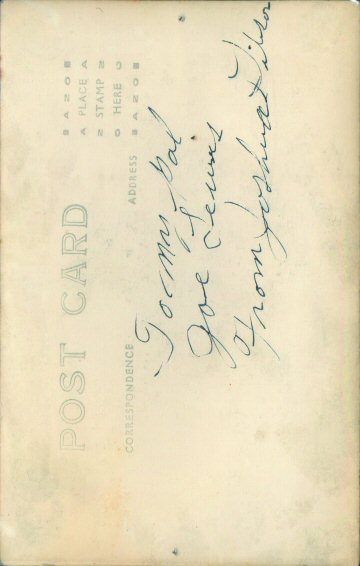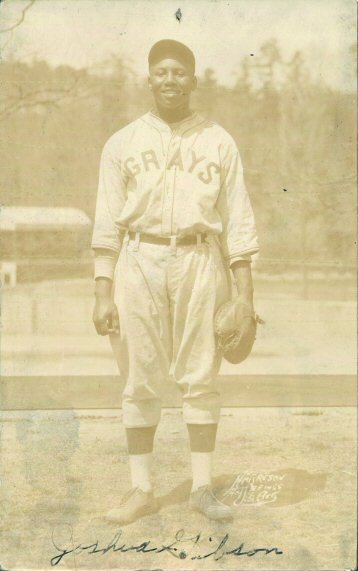 The earliest (and the only known) individual player card from the playing days of Negro League Hall of Famer Joshua Gibson was recently unveiled by Robert Edward Auctions. The real photo postcard is slated for sale in the company's Spring 2005 auction. The card's historic significance is almost certain to make it not only the highest valued baseball postcard, but the highest valued postcard ever sold at public auction.
Gibson's rare autograph on both the front and back of the card will also make it extremely attractive to autograph collectors as well. In addition to the authenticated autographs, a salutation found on the reverse is personalized to fellow Negro League catcher Joe Lewis.
The postcard is all the more extraordinary in that it features Gibson as an eighteen-year-old in his first full season with the Homestead Grays Negro League team. Gibson joined the Grays in the middle of the 1930 season and he left to join the Pittsburg Crawfords early in 1932.
Gibson was the star of the 1931 Grays, considered by most historians to be the best Negro baseball team of all time. Playing as an independent team in 1931, they are credited with a record of 163-23 against all levels of competition. In that season, Gibson logged a record 75 home runs.
The "Joe Lewis" in the salutation is almost certainly Joseph Herman (Sleepy) Lewis, who was a star catcher in the Negro Leagues from 1919 to 1936 with many teams including the Baltimore Black Sox, Washington Potomacs and the Lincoln Giants.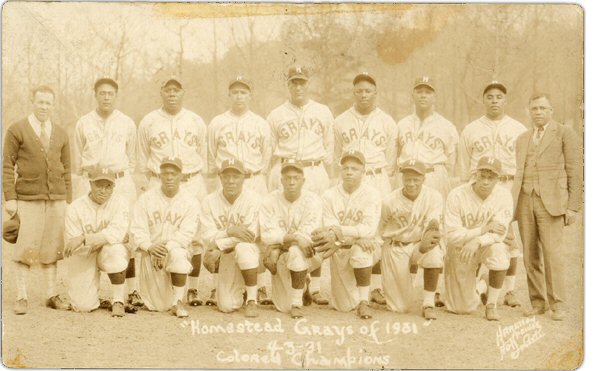 The Gibson card was for many years part of the collection of Louis Santop, another star of the Negro Leagues. Several examples from the Santop collection (including the Gibson card) were from an obscure set of real photo postcards produced by Harrison Studio of Hot Springs, Arkansas. All cards from the set include the postcard markings on the reverse along with an "AZO" stamp box.
The Harrison Studio set includes cards of both individual players as well as team photo cards of the Grays during spring training for both 1930 and 1931. Because Gibson had not yet joined the team when the 1930 team photo was taken, he is found only in the 1931 postcard. The photo for his individual player card was no doubt taken at the same time. The 1931 team card is shown here; Gibson is in the back row; fourth from right.
Both team cards from the Harrison Studio set are dated in white lettering near the bottom of the cards. The dates are "3/30/30" and "4/3/31" respectively.
A set profile for the Harrison Studio issue, along with a checklist and gallery of all currently known cards from the set, has been added to the Old Cardboard website.



---
6. Old Cardboard Holiday Special



Hard to Shop for?
Ask for Old Cardboard magazine for the Holidays!
OR
Treat your vintage card collecting friends to a subscription to Old Cardboard Magazine.
These special holiday offers are valid between now and 12/18/2005:
All back issues and prints to be delivered before Christmas. To order just send a check or money order to:

Old Cardboard Magazine
13506 Caldwell Dr
Austin, TX 78750
Regular subscription orders/renewals may be placed online at https://www.oldcardboard.com/subscriptions.asp. If you would like to use a credit card to pay for one of the holiday offers above you may do so by sending a payment via PayPal for the coupon amount shown above. The PayPal Recipient's Email address is orders@oldcardboard.com. Please include in the PayPal Notes section all mailing addresses for your holiday gift subscriptions. We will send a confirmation email to you and a "Welcome Aboard" email to all recipients letting them know that you have sent them a gift subscription of Old Cardboard magazine. Offers expire on 12/18/2005. No gift wrapping services are available, sorry.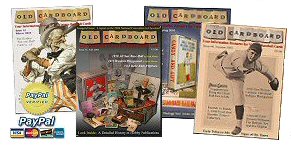 ---
Lyman and Brett Hardeman
Old Cardboard, LLC.
Old Cardboard, LLC. was established in December, 2003, to help bring information on vintage baseball card collecting to the hobbyist. Produced by collectors for collectors, this comprehensive resource consists of three components: (1) Old Cardboard Magazine, (2) a companion website at www.oldcardboard.com and (3) this eNewsletter. The Old Cardboard website contains more than 500 pages of descriptive reference information for baseball card sets produced before 1950. Each of these set summaries has a direct set-specific link to

auctions and a similar link to

's powerful search engine for further research. The website also includes a Show and Auction Calendar, an eBay Top 50 Vintage Sellers List, and much more. As a result, the Old Cardboard website makes a great "Alt-tab" companion for vintage card shoppers and researchers. Old Cardboard eNews provides current hobby news, upcoming shows and auctions, and updates to the website and the magazine. It is published around the middle of each month. For a FREE subscription to the eNewsletter, or for subscription information on Old Cardboard Magazine, please visit the website at www.oldcardboard.com. If you find this information resource helpful, please tell your friends. We need your support and your feedback. Thank you.
Note: To Unsubscribe to this eNewsletter, just send a reply email with "Unsubscribe" in the subject line.