---
4. Auction Action
Activity in auctions for vintage baseball cards and memorabilia seems at an all-time high. In just the last few weeks, major auctions with unique and quality vintage material were held by MastroNet, Lew Lipset Auctions, Memory Lane and Robert Edwards Auctions and others. All of these produced very active bidding and sales results. The MastroNet April auction alone generated over $11 million in sales.
Likewise, Robert Edwards Auctions set a company record of $7.1 million in total sales. This included a 1914 Babe Ruth rookie card issued by The Baltimore News that realized $243,600. The sale shattered the previous record of $79,500 for the card, making it the second most valuable baseball card in the hobby. In addition, a 1910 Joe Jackson Old Mill Tobacco card with a previous auction record price of $15,000 sold for $92,000.
To the delight of many collectors (and investors), the auction action continues. Major additional auctions with significant vintage material end later this month for Heritage Sports Collectibles and Mile High Card Company. Geared mainly to the collector of vintage Japanese cards and memorabilia, the Prestige Collectibles auction also closes soon. See the Old Cardboard Show and Auction Calendar for the latest new additions. These will be followed closely by a joint Sotheby's/SportsCards Plus event ending June 10 in New York City--the second such event in six months.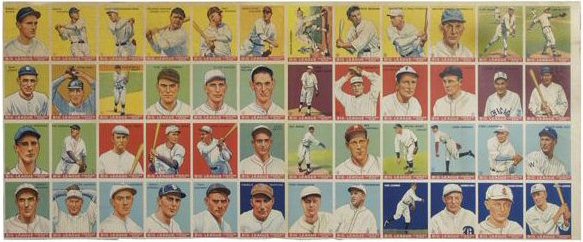 Note: the 1934 V354 World Wide Gum uncut sheet shown here is among the key lots found in the Heritage auction. A unique piece, it includes all 48 of the "low number" cards in the set that is sometimes also known in the hobby as "Canadian Goudey's." Key players include Ruth, Speaker, Hornsby, Maranville and others. At the time this eNewsletter was prepared (only a few days before the May 14 auction closing), bidding for the lot was just $2,868 (including a 19.5 percent buyer's premium).
The Mile High auction is similarly stocked with rare and highly desirable issues including examples from 19th century sets such as Kalamazoo Bats, N173 Old Judge and Dogs Head Cabinets, N403 Yum Yum Tobacco, N370 Lone Jack Cigarettes and more. The auction closes May 25.