5. Name That Place (Answer: Fort Monroe)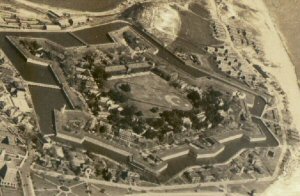 1930's Photo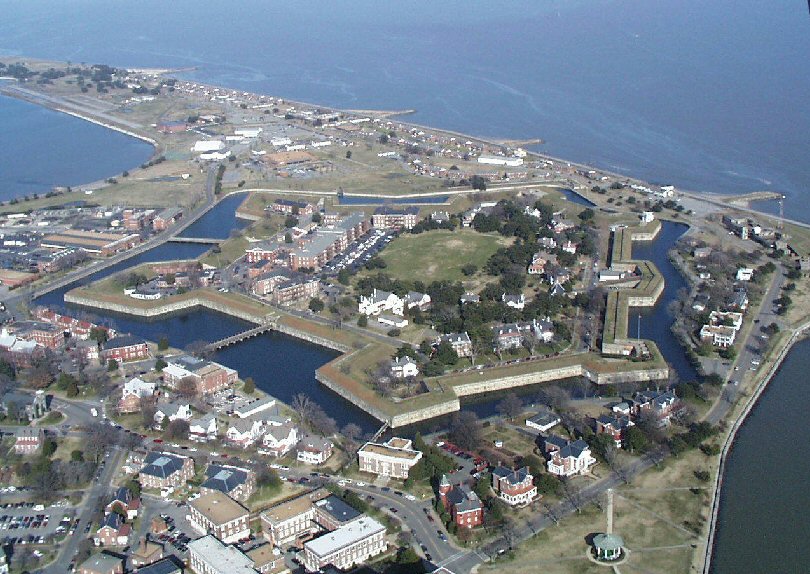 Recent Photo

In our June eNewsletter, we asked our subscribers for assistance in identifying the fortress featured on a 1930's vintage postcard that has a baseball field at its center (see image at right). Several replies quickly identified the fortress as Fort Monroe, VA located at the entrance to the Chesapeake Bay. A more recent color photo of the 80-acre fortress is provided here.

The quickest reply, and the winner of a set of Old Cardboard's Type-Card Gallery Prints, was Donald Johnson of Springfield, VA. Don admits that he perhaps has a slight advantage. He is a Major on active duty in the military.

In addition to a number of other correct answers, guesses ranged from Key West to Wake Island. We appreciate all replies.

Fort Monroe has an interesting history. As early as 1609--long before baseball was ever "invented"--fortifications were built at the site by the British. The structure shown in the images was completed by the U.S. government in 1834 and named for President James Monroe. It was held by Union forces throughout the Civil War. Following the war, Jefferson Davis, president of the Confederacy, was imprisoned there from 1865 until 1867.

Long a U.S. Army coast-artillery post and school, the fort became headquarters of the U.S. Army Training and Doctrine Command (TRADOC) in 1973.

We are told that baseball games are now played a short distance away, outside the fortress. It sure looks to us, however, like there is still a playing field laid out at one end of the "drill field" at the center of the fortress--almost exactly where it was located nearly three-quarters of a century ago.
---
6. $3 Discount on Tickets to National
Just an "FYI" to Old Cardboard readers that plan to attend the 26th National Sports Collectors Convention in Chicago next week (July 27-31, 2005): NAXCOM is offering a $3 discount on day tickets ($12 rather than $15). The tickets can be ordered online and are good for any day at the show. They can be picked up at the company's will-call desk at the entrance to the show. Multiple tickets can be purchased if you are planning on attending more than one day. As an added bonus for first-day attendees, the tickets will get you in at 4 pm--an hour before the crowd--when the show opens to the public on Wednesday, July 27. The only requirement is that you register for a free NAXCOM account on their website (follow this link for details).
---
Lyman and Brett Hardeman
Old Cardboard, LLC.
Old Cardboard, LLC. was established in December, 2003, to help bring information on vintage baseball card collecting to the hobbyist. Produced by collectors for collectors, this comprehensive resource consists of three components: (1) Old Cardboard Magazine, (2) a companion website at www.oldcardboard.com and (3) this eNewsletter. The Old Cardboard website contains more than 500 pages of descriptive reference information for baseball card sets produced before 1950. Each of these set summaries has a direct set-specific link to

auctions and a similar link to

's powerful search engine for further research. The website also includes a Show and Auction Calendar, an eBay Top 50 Vintage Sellers List, and much more. As a result, the Old Cardboard website makes a great "Alt-tab" companion for vintage card shoppers and researchers. Old Cardboard eNews provides current hobby news, upcoming shows and auctions, and updates to the website and the magazine. It is published around the middle of each month. For a FREE subscription to the eNewsletter, or for subscription information on Old Cardboard Magazine, please visit the website at www.oldcardboard.com. If you find this information resource helpful, please tell your friends. We need your support and your feedback. Thank you.