---
6. Encyclopedia Available (Supply Limited)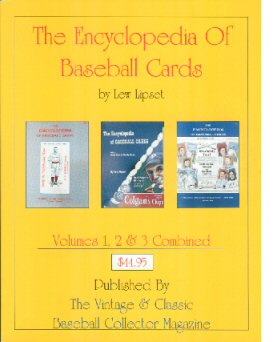 Vintage collectors may have different opinions about which are their favorite vintage baseball card sets. There is universal agreement in the hobby, however, that Lew Lipset's Encyclopedia of Baseball Cards, originally published by the author in the mid-1980s, is an essential cornerstone for any vintage card collector's library.
Old Cardboard has a limited supply of Lipset's classic. These are brand new copies of all three volumes consolidated into a durable single binding. If Old Cardboard readers do not already have a copy, we highly recommend that you get one today.
We are offering the 350-page Encyclopedia (while supplies last) at $29.95 plus $5 for shipping and handling. Additional details about the content of the book and how to order can be found on the Order Processing page of the Old Cardboard website.
When they're gone, they're gone.
---
Lyman and Brett Hardeman
Old Cardboard, LLC.
Old Cardboard, LLC. was established in December, 2003, to help bring information on vintage baseball card collecting to the hobbyist. Produced by collectors for collectors, this comprehensive resource consists of three components: (1) Old Cardboard Magazine, (2) a companion website at www.oldcardboard.com and (3) this eNewsletter. The Old Cardboard website contains more than 500 pages of descriptive reference information for baseball card sets produced before 1950. Each of these set summaries has a direct set-specific link to

auctions and a similar link to

's powerful search engine for further research. The website also includes a Show and Auction Calendar, an eBay Top 50 Vintage Sellers List, and much more. As a result, the Old Cardboard website makes a great "Alt-tab" companion for vintage card shoppers and researchers. Old Cardboard eNews provides current hobby news, upcoming shows and auctions, and updates to the website and the magazine. It is published around the middle of each month. For a FREE subscription to the eNewsletter, or for subscription information on Old Cardboard Magazine, please visit the website at www.oldcardboard.com. If you find this information resource helpful, please tell your friends. We need your support and your feedback. Thank you.
Note: To Unsubscribe to this eNewsletter, just send a reply email with "Unsubscribe" in the subject line.