---
5. The "Philly Show"?...Still To Be Determined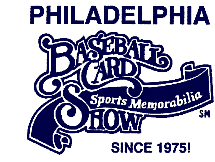 With the 2006 National Sports Collectors Convention now history, many vintage collectors are now wondering when and where the next "Philly Show" will take place. Considered by many vintage collectors to be a close second in importance to the National, the four-times-per-year Philly Show is now looking for a new home. As a result, the previously scheduled September 29 - October 1, 2006 Fall event has been cancelled.
The final show for 2006, planned for December 1-3, is still on but at this time (early August) remains homeless.
The show's promoter, Bob Schmierer, was unavailable for comment as we prepared this eNewsletter. According to hobby buzz, however, a tentative site has been found but details have not yet been finalized or announced. The show's website promises that any news on future shows will be posted there, but lists all details as "TBD." It has been about thirty days since the website was last updated and it offers no hints about where the next show will take place.
Under the title of the Philadelphia Sports Card & Memorabilia Show, the event is better known simply as the "Philly Show." It began in September 1975 at Spring Garden College as an annual event. It moved to the George Washington Lodge in Willow Grove, PA in March 1978 as a twice annual show. The show grew to a three-per-year event in 1988, then further expanded to four shows annually (March, May, September and December) in 1990. The show relocated to the Fort Washington (PA) Expo Center in March 1993 where it has remained until earlier this year.
Old Cardboard will continue to track the progress of the search for a new home and update our events calendar as soon as details about the next show are announced. You may also want to check the "Philly Show" website for any future updates.
---
Lyman and Brett Hardeman
Old Cardboard, LLC.
Old Cardboard, LLC. was established in December, 2003, to help bring information on vintage baseball card collecting to the hobbyist. Produced by collectors for collectors, this comprehensive resource consists of three components: (1) Old Cardboard Magazine, (2) a companion website at www.oldcardboard.com and (3) this eNewsletter. The Old Cardboard website contains more than 500 pages of descriptive reference information for baseball card sets produced fifty years ago or longer. Each of these set summaries has a direct set-specific link to

auctions and a similar link to

's powerful search engine for further research. The website also includes a Show and Auction Calendar, an eBay Top 50 Vintage Sellers List, and much more. As a result, the Old Cardboard website makes a great "Alt-tab" companion for vintage card shoppers and researchers. Old Cardboard eNews provides current hobby news, upcoming shows and auctions, and updates to the website and the magazine. It is published around the middle of each month. For a FREE subscription to the eNewsletter, or for subscription information on Old Cardboard Magazine, please visit the website at www.oldcardboard.com. If you find this information resource helpful, please tell your friends. We need your support and your feedback. Thank you.
Note: To Unsubscribe to this eNewsletter, just send a reply email with "Unsubscribe" in the subject line.