---
6. Just Released: "Cardboard Gems" by Khyber Oser, Mark Friedland & Ron Oser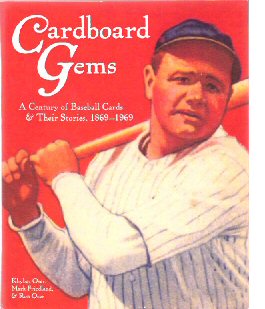 A new book focused squarely on vintage baseball cards was released last week at the National Sports Collectors Convention in Anaheim, CA. Entitled "Cardboard Gems: A Century of Baseball Cards & Their Stories, 1869-1969," the hardbound 8 by 10-inch volume is published by Mastro Auctions. It is part of an ongoing series produced by Mastro aimed at the sports collector hobby.
In total, there are 118 different issues covered in the book ranging from the 1869 Peck & Snyder card of the Cincinnati Red Stockings to the 1969 Topps #500 White-Letter Variation card of Mickey Mantle. The full gamut of sets is represented from mainstream staples such as the T206 White Borders and the gum cards of the 1930s to off-the-beaten-path sets like the 1903 Breisch-Williams, the 1933 Tattoo Orbit and the 1954 Wilson Franks.
Numerous additional photos and related memorabilia are provided to help illustrate the text. All are presented in full color. In addition, estimates of today's card values are provided for each card profiled.
Introductory narrative summarizes a brief history of both the cards and the baseball card hobby. Appendices provide insight into baseball cards as an investment and the trend toward graded cards.
Copies of the book can be ordered by calling Scott Emmerling at Mastro Auctions (630-472-1200) or via email at books@mastroauctions.com. The $24.95 price includes shipping.


---
Lyman and Brett Hardeman
Old Cardboard, LLC.
Old Cardboard, LLC. was established in December, 2003, to help bring information on vintage baseball card collecting to the hobbyist. Produced by collectors for collectors, this comprehensive resource consists of three components: (1) Old Cardboard Magazine, (2) a companion website at www.oldcardboard.com and (3) this eNewsletter. The Old Cardboard website contains more than 500 pages of descriptive reference information for baseball card sets produced fifty years ago or longer. Each of these set summaries has a direct set-specific link to

auctions and a similar link to

's powerful search engine for further research. The website also includes a Show and Auction Calendar, an eBay Top 50 Vintage Sellers List, and much more. As a result, the Old Cardboard website makes a great "Alt-tab" companion for vintage card shoppers and researchers. Old Cardboard eNews provides current hobby news, upcoming shows and auctions, and updates to the website and the magazine. It is published around the middle of each month. For a FREE subscription to the eNewsletter, or for subscription information on Old Cardboard Magazine, please visit the website at www.oldcardboard.com. If you find this information resource helpful, please tell your friends. We need your support and your feedback. Thank you.
Note: To Unsubscribe to this eNewsletter, just send a reply email with "Unsubscribe" in the subject line.