---
5. Baseball's Oldest Old-Timer Turns 111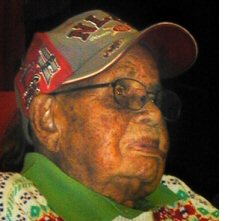 Simply amazing!
Born in 1895--the same year as Babe Ruth--Negro Leagues player Silas "Si" Simmons on October 14 began his 112th year of life on planet earth. It doesn't get any more "vintage" than that! His photo at left was taken at his birthday celebration last Saturday.
Although researchers at the Society for American Baseball Research (SABR) have records in their files of some of Simmons early games, they had no idea until recently that the tricentenarian was still alive. While SABR records are incomplete for Negro and Minor League teams, there is little doubt that Simmons holds the record as the oldest professional baseball player ever. And he is still counting!
Chet (Red) Hoff who passed away in 1998 at the age of 107 is the longest-lived Major League ballplayer on record. Currently, the oldest living former Major Leaguer is Rollie Stiles, who turns 100 next month. Simmons easily outdistances them all.
When presented with a copy of a photograph of the 1913 Homestead Grays (shown below), Simmons identified himself as the second player from the right in the middle row. It is mind-boggling to realize that the two photos of Simmons used in this article were taken some ninety-three years apart and that Simmons' life spans three centuries (19th, 20th and 21st).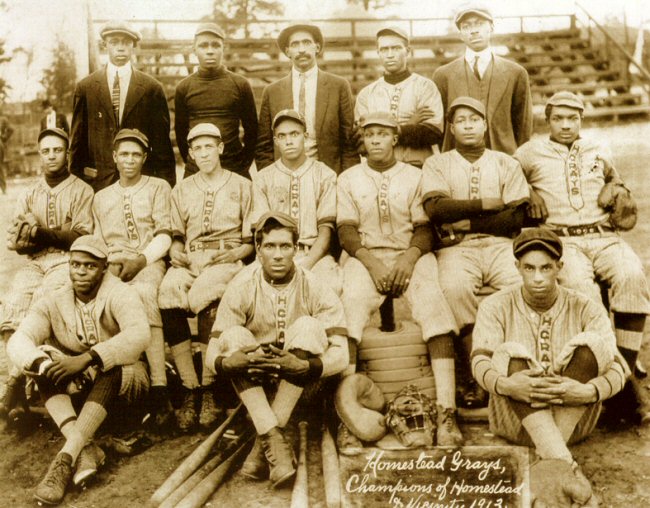 The team photograph shown was provided by Ryan Christoff, a SABR member and Negro League researcher based in Boulder, Colorado. According to Christoff, Simmons was in good company. On the same (middle) row in the team photo, third player from the left, is recently elected Hall of Famer Cumberland Posey. Posey became manager of the Grays in 1916, then built the team into one of the powerhouse franchises of black baseball, winning numerous pennants including nine consecutively from 1937-45.
Simmons grew up in a central Philadelphia row house. He was a left-handed pitcher who was signed by the nearby Germantown Blue Ribbons, a well-regarded team. In an interview for a recent article in the New York Times, he said that he started pitching for the Blue Ribbons at age 16 or 17 (1912 or 1913). Box scores and period articles from the Philadelphia Inquirer credit the 5-foot-10 Simmons with routinely striking out 10 or more batters while getting a hit or two each game. Researchers have uncovered box scores and game recaps with his name from many sources throughout the 1910's and beyond.
Two box scores from 1926 show Simmons pitching for the New York Lincoln Giants of the Eastern Colored League. He also played at least one game for the Negro National League's Cuban Stars in 1929.
"I had a good curveball and a good fastball," Simmons told the Times, adding that he was paid about $10 a game for his services.
Credit for "discovering" Simmons after all these years goes to David Lambert, another SABR researcher who is also a genealogist that works for the New England Historic Genealogical Society in Boston. Based on leads that Lambert uncovered while researching former Negro League baseball players for SABR, he was able to locate Simmons in a nursing home in Florida.
We are sure that all of our readers join us in wishing Si Simmons many more Happy Birthdays to come.
---
Lyman and Brett Hardeman
Old Cardboard, LLC.

Old Cardboard, LLC. was established in December, 2003, to help bring information on vintage baseball card collecting to the hobbyist. Produced by collectors for collectors, this comprehensive resource consists of three components: (1) Old Cardboard Magazine, (2) a companion website at www.oldcardboard.com and (3) this eNewsletter. The Old Cardboard website contains more than 500 pages of descriptive reference information for baseball card sets produced fifty years ago or longer. Each of these set summaries has a direct set-specific link to

auctions and a similar link to

's powerful search engine for further research. The website also includes a Show and Auction Calendar, an eBay Top 50 Vintage Sellers List, and much more. As a result, the Old Cardboard website makes a great "Alt-tab" companion for vintage card shoppers and researchers. Old Cardboard eNews provides current hobby news, upcoming shows and auctions, and updates to the website and the magazine. It is published around the middle of each month. For a FREE subscription to the eNewsletter, or for subscription information on Old Cardboard Magazine, please visit the website at www.oldcardboard.com. If you find this information resource helpful, please tell your friends. We need your support and your feedback. Thank you.
To Unsubscribe to this eNewsletter, just send a reply email with "Unsubscribe" in the subject line.