---
4. Old Cardboard Magazine Issue #7 on Target for April Delivery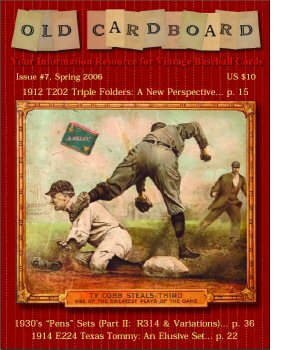 Issue #7 (Spring 2006) of Old Cardboard magazine is now at the printer and on track to be in subscriber hands by it's April 15 promised delivery date.
The cover for this latest issue (shown here) is keyed to our lead article about the T202 Hassan Triple Folder series. Co-authors for the article, Lee Behrens and Brian Hodes, have both completed the set after several years of piecing together the 132 component cards. In addition to describing the key features of set, a checklist is included numbered both in the sequence of all 132 different cards in the set as well as by the 76-card sequence based on the black and white card center panels. A separate player cross-checklist also keys each player featured on the T202 end panels with the master checklist.
A full-page sidebar included with the article describes the only known three-panel in-store display used to promote the set and its sponsor, Hassan cigarettes. The three-panel display originally used in 1912 was only recently discovered and is slated for auction this Spring.
Other articles in this latest issue of Old Cardboard include little known details about the 1914 E224 Texas Tommy card sets along with a gallery of all known examples from the 51-card Type 1 set and all but one of the cards in the Type 2 series. The article is written by second time Old Cardboard author John Esch.
Rounding out the issue is Part II of Tim Newcomb's in-depth study of the 1930's "Pens" premiums, and a striking image and revealing description of one of the very earliest baseball matches ever reported in a national news publication.
The above feature articles are in addition to the magazine's regular "Editor's Notebook" and "Collector's Dugout" sections and lots of informative messages from our sponsors. More detailed abstracts for each of the above articles, including thumbnail images of the full-color page layouts, can be viewed on the Old Cardboard website.
---
5. Memory Lane wins NAXCOM VI:2 Competition; Focus Now on March 30 Auction

Our hats off to Memory Lane, Inc. for winning the NAXCOM Vintage Invitational 2 sales competition. Over the past half-year or so, the company worked its way to the top of a field that started with 32 vintage dealers. To win, MLI had to offer the broadest selection of vintage cards at prices low enough to attract the largest volume of business. It's reward: A $10,000 cash first prize. Additional details about the VI:2 competition can be found on the NAXCOM website.

With the VI:2 competition now history, MLI is focused on its catalog and on-line auction that closes March 30. The event offers an outstanding array of lots for the vintage collector.

Although a signed Ruth baseball may not be the main interest of some Old Cardboard subscribers, we can assure you that all of our readers will be intrigued with a video clip on the MLI website that is used to help place their Ruth-signed baseball into perspective. It was the ball used in the "last home run" that Ruth hit in the "House that Ruth built" (Yankee stadium). The "home run" was part of an exhibition event between two games of a double header that pitted the Yankees against the Washington Senators. The games were played August 23, 1942 and keyed to a wartime bond drive.

In the exhibition, then 55-year old ex-Senator Walter Johnson pitched against Ruth, then 48 years of age. Benny Bengough was catcher for the event, with Hall-of-Fame Umpire Billy Evans looking on. All four can be seen in the photograph at right.

The ball carries the signatures of not only Ruth, but also of Johnson and Evans. It has been consigned to MLI by the original fan, now 78, who attended the game at age 15 and whose father grabbed the ball as it landed in the "Ruthville" section of the stadium beyond the right field wall. It is a Ruth-signed ball with a truly fascinating story. For the whole story and the video that recorded the event, take a look on the Memory Lane website

.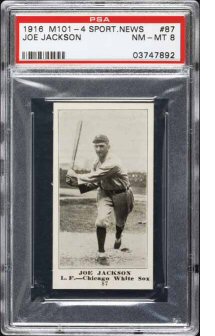 If you are more into high-grade vintage baseball cards than Ruth-signed baseballs, then you also will find plenty to choose from in the auction. The auction offers a very impressive array of several hundred vintage cards with grades of 7 (near-mint) or higher. Perhaps even more impressive is that there are examples from more than three dozen different vintage sets are represented, beginning with several 1887 N172 Old Judge cards.
Other auction highlights include high-grade examples of the 1910 E93 Standard Caramel cards of Frank Chance and Eddie Plank; a 1911 T205 Mathewson (PSA 7); a 1915 E145 Cracker Jack Walter Johnson (PSA 8); and a 1916 M101-4 Sporting News example of Joe Jackson graded PSA 8 (see image at left).
All lots for the Memory Lane auction can be viewed on their website.









---
Lyman and Brett Hardeman
Old Cardboard, LLC.
Old Cardboard, LLC. was established in December, 2003, to help bring information on vintage baseball card collecting to the hobbyist. Produced by collectors for collectors, this comprehensive resource consists of three components: (1) Old Cardboard Magazine, (2) a companion website at www.oldcardboard.com and (3) this eNewsletter. The Old Cardboard website contains more than 500 pages of descriptive reference information for baseball card sets produced fifty years ago or longer. Each of these set summaries has a direct set-specific link to

auctions and a similar link to

's powerful search engine for further research. The website also includes a Show and Auction Calendar, an eBay Top 50 Vintage Sellers List, and much more. As a result, the Old Cardboard website makes a great "Alt-tab" companion for vintage card shoppers and researchers. Old Cardboard eNews provides current hobby news, upcoming shows and auctions, and updates to the website and the magazine. It is published around the middle of each month. For a FREE subscription to the eNewsletter, or for subscription information on Old Cardboard Magazine, please visit the website at www.oldcardboard.com. If you find this information resource helpful, please tell your friends. We need your support and your feedback. Thank you.
Note: To Unsubscribe to this eNewsletter, just send a reply email with "Unsubscribe" in the subject line.