---
2. Hobby Pub History: The Old Judge Newsletters (1985-1994)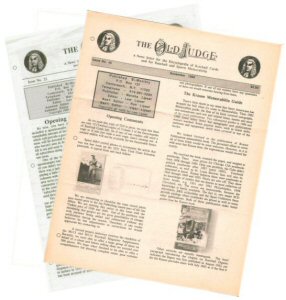 Beginning in 1985 and continuing for ten years, The Old Judge newsletter served as a primary source of information for vintage baseball card collectors. Written and published by Lew Lipset, one of the hobby's leading collectors and dealers, the eight-page newsletter was published in an 8-1/2 x 11 inch format. It started and ran for two years as a quarterly (Issue #1 through #8), before moving to a bi-monthly with Issue #9 (February 1987), then monthly with Issue #18 (July 1988). By the end of its run in January 1994, the newsletter totaled fifty issues.
The newsletters contain a wealth of information. Although one of its primary purposes was to provide updates to the publisher's landmark three-volume Encyclopedia of Baseball Cards, the newsletter also contained informative price guides, as well as numerous lively editorials about the state of the hobby, and more.
With some exceptions, each newsletter ran eight pages in length and carried no advertising. In most cases, pages four and five (the centerfold) contained a 2-page pricing summary for a major vintage baseball card group (N-cards, T-cards, E-cards, etc.) with each group updated on a rotating cycle every several issues. Pricing generally summarized each set with a set price as well as a price for each of the key players in the set as well as a single price for all "commons." This was an important reference at the time as the detailed price guides that checklisted all players sets--especially vintage sets--were just beginning to be distributed.
Perhaps the most important contributions of the newsletter, however, were the many articles that summarized new discoveries for vintage sets. This, combined with Lipset's sometimes unbridled editorials and opinions about the state of the hobby, made for interesting reading.
The newsletter was also amply illustrated with black and white images of vintage cards, packaging and other items described in the text.
As with some vintage card sets, the sequence labeling of the Old Judge newsletter had an occasional instance of skip numbering, supplemental numbering, combined numbering (one issue with two numbers), etc. The complete run was issued as follows: 1 through 5, 5A, 6, 6A, 7 through 46, 47/48 combined, and 50. Note that Issue #38 was distributed but printed without a date or issue number, and Issue #49 was never distributed. Thus, in total, fifty separate newsletters were printed and distributed. The first 23 of these were also reprinted in a bound volume (The Old Judge: The First Four Years) in 1989.
Examples of The Old Judge newsletter occasionally show up on eBay at prices typically around $5 per issue. A complete run, if it can be found, might sell in the $250-350 range. As a supplement to the publisher's Encyclopedia, the newsletters make a meaningful purchase for the more advanced vintage baseball card researcher.


OC eNewsletter Sponsor
---
3. Latest Updates to the OldCardboard.com Website