---
4. Deadball Stars: A Vintage Homerun for SABR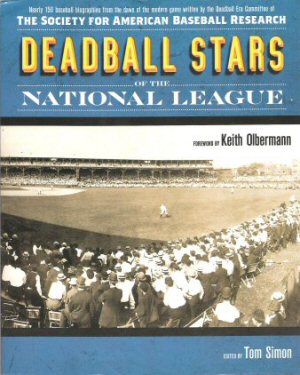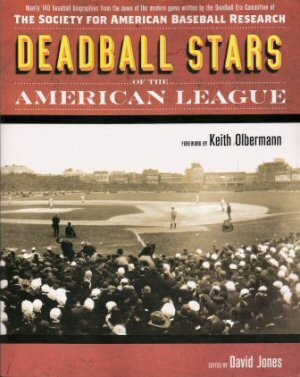 Three years after publication of the first of this two-volume series which profiled players from the National League, the Society for American Baseball Research (SABR) and Potomac Books have now released a companion volume, Deadball Stars of the American League. Totaling some 800 pages and 400 photographs, the two volumes are an invaluable resource for vintage collectors that are researching major league teams and players of the deadball era (1901-1919).
Together, the two 8-1/2 by 11 inch volumes provide detailed biographical profiles for each of more than 250 players, umpires and leading league officials. Each volume is organized with a leading chapter covering the league followed by chapters for each of the eight teams in the league. For example, the American League volume provides profiles for league umpires Tommy Connolly, Silk O'Loughlin, Billy Evans as well as league president Ban Johnson and vice-president Charles Somers.

The meat of each volume, however, is contained in each of the eight "team" chapters. Following a uniform format, each chapter first graphs the team's win-loss performance for each of the 19 years of the deadball era (example shown is for the Boston Red Sox of the American League). In addition, an "all-era" team with selections for each player position is plotted on a representative field, as well as batting and pitching statistics for team leaders and a year-by-year "typical"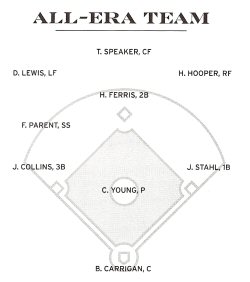 team lineup. An all-era team example is also shown here for the Red Sox. A one-to-four page profile for each of about fifteen to twenty players for each team is then presented and amply illustrated. Autographs are also displayed for each of the 250-plus subjects in the two volumes.
Although following a consistent format, the authors vary for each biographical profile and the editors for each of the two volumes are different. All contributors, however, are members of the Deadball Era Committee of SABR and collectively have spent many decades in researching the players profiled. Vintage collector and newscaster Keith Olbermann, a SABR member since 1984, contributed the Foreword for each volume.
For obvious reasons, the two volumes should be acquired together even though they were published several years apart. The page numbering for the most recent volume (Deadball Stars of the American League) picks up where where the first volume leaves off. The second volume also contains an index for the combined two-volume companion series.
The references are available at most bookstores or can be ordered directly from Potomac Books, Inc., 22841 Quicksilver Drive, Dulles, Virginia 20166. Retail price is $24.95 for each volume. Note: Potomac Books is currently offering a 30% discount ($17.47 each volume) for these and other baseball-related titles if ordered from the Potomac Books website before May 31 (click on the "Web Specials" link at the top of their home page). Both volumes are also available at discounted prices from Amazon.com
.
---
Lyman and Brett Hardeman
Old Cardboard, LLC.
Old Cardboard, LLC. was established in December, 2003, to help bring information on vintage baseball card collecting to the hobbyist. Produced by collectors for collectors, this comprehensive resource consists of three components: (1) Old Cardboard Magazine, (2) a companion website at www.oldcardboard.com and (3) this eNewsletter. The Old Cardboard website contains more than 500 pages of descriptive reference information for baseball card sets produced fifty years ago or longer. Each of these set summaries has a direct set-specific link to

auctions and a similar link to

's powerful search engine for further research. The website also includes a Show and Auction Calendar, an eBay Top 50 Vintage Sellers List, and much more. As a result, the Old Cardboard website makes a great "Alt-tab" companion for vintage card shoppers and researchers. Old Cardboard eNews provides current hobby news, upcoming shows and auctions, and updates to the website and the magazine. It is published around the middle of each month. For a FREE subscription to the eNewsletter, or for subscription information on Old Cardboard Magazine, please visit the website at www.oldcardboard.com. If you find this information resource helpful, please tell your friends. We need your support and your feedback. Thank you.
To Unsubscribe to this eNewsletter, just send a reply email with "Unsubscribe" in the subject line.