---
4. Vintage Sales Strong at National; Mastro 'Live' Sets Pace
Most collectors seemed to find an abundance of vintage material at this year's annual National Sports Collectors Convention held earlier this month in Cleveland. From the activity and the material that we saw, vintage collecting is alive and well and continues to break new records.

1912 T215 Pirate Cig.
Matty

1912 Pirate Cig.
Back
Setting the pace at this year's event was the inaugural edition of a live auction held Friday evening by Mastro Auctions. Beginning with Lot #1 (a one-of-a-kind near set of Pirate's tobacco cards) through Lot #83 (an SGC "poor" graded copy of the renowned T206 card of Honus Wagner, bidding was strong and lively (better characterized as "bruttle" according to some bidders). The record breaking auction was held at Cleveland's downtown House of Blues club.

Overall, the auction sold $4.3 million in sports cards and memorabilia. It also raised over $20,000 for the Lance Armstrong Foundation, a charity geared toward providing a variety of services for cancer survivors.

The average lot price for the auction exceeded an awe inspiring $50,000, more than five times the average for lots in other auctions of high-end sports items.

The ultra-rare "Pirate" cards have long held a mystique for vintage card collectors. The set is a brand variation of one more commonly known as the T215 Red Cross tobacco issue in the American Card Catalog. It was distributed by Pirate brand cigarettes of Bristol and London, England. Although the fronts of the cards are the same for the two sets, the card backs of the British version simply display the image of a pack of cigarettes with the Pirate brand. Most collectors believe that the brand was distributed to U. S. and British servicemen in the South Pacific. They are rarely found in either the United States or in England.

The near set of 96 out of the 97 known players in the Pirate set (including five cards previously uncataloged in hobby checklists) is simply unprecedented. It was no doubt with these facts in mind that advanced collector and Old Cardboard subscriber Richard Masson bid an unprecedented $960,000 for the lot (including the buyers premium), making it easily the highest amount ever paid for a vintage baseball card set. Our hats off to Richard.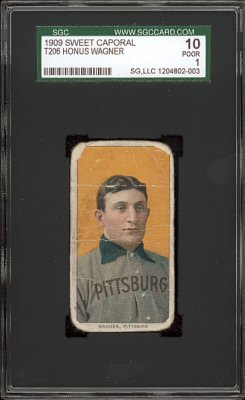 T206 Wagner (SGC 10 "Poor")

Bidding continued at a strong pace throughout the auction, right up to the final lot #83--the SGC 10-graded T206 card of Honus Wagner. While higher-grade "Wagners" have sold for much more, the $192,000 realized also pushed the record barrier. "The T206 Wagner is one of those pieces of sports history that transcends condition," according to Mastro president Doug Allen. "But still, a baseball card in poor condition going for nearly $200,000 is without question a hobby milestone."

Midway through the auction, Lot #52 (a recently discovered uncut box with four W555 cards still attached) also received exceptionally strong bidding. The discovery has been much discussed among vintage collectors and is described in some detail in the current issue of Old Cardboard magazine ("Century-Old Mystery Solved; New Questions Raised," Issue #12, Summer 2007, p. 8-10).

The W555 box was presented in the auction catalog with an estimated value of between $2,500 and $5,000. Not so. Active bidding moved the piece to a hammer price of $23,000 (with a 20 percent buyer premium, that's a sale price of $27,600). Not too shabby for an old cardboard box! Despite numerous bids from the auction floor, the winning bid was via telephone and remains unidentified, at least for now.

Additional lots of special interest to vintage collectors include a 1914 H813 Boston Garter card of Joe Jackson (Lot #2; sold for $204,000); a complete graded set of 1910-13 Turkey Red cabinets (Lot #6;sold for $66,000), a 1915 M101-4/5 Babe Ruth Rookie graded PSA-NM7 (Lot #33; sold for $57,000) and much more. Lot-by-lot details and hammer prices realized can be viewed on the Mastro website.
---
Lyman and Brett Hardeman
Old Cardboard, LLC.
Old Cardboard, LLC. was established in December, 2003, to help bring information on vintage baseball card collecting to the hobbyist. Produced by collectors for collectors, this comprehensive resource consists of three components: (1) Old Cardboard Magazine, (2) a companion website at www.oldcardboard.com and (3) this eNewsletter. The Old Cardboard website contains more than 500 pages of descriptive reference information for baseball card sets produced fifty years ago or longer. Each of these set summaries has a direct set-specific link to

auctions and a similar link to

's powerful search engine for further research. The website also includes a Show and Auction Calendar, an eBay Top 50 Vintage Sellers List, and much more. As a result, the Old Cardboard website makes a great "Alt-tab" companion for vintage card shoppers and researchers. Old Cardboard eNews provides current hobby news, upcoming shows and auctions, and updates to the website and the magazine. It is published around the middle of each month. For a FREE subscription to the eNewsletter, or for subscription information on Old Cardboard Magazine, please visit the website at www.oldcardboard.com. If you find this information resource helpful, please tell your friends. We need your support and your feedback. Thank you.
To Unsubscribe to this eNewsletter, just send a reply email with "Unsubscribe" in the subject line.