4. 1960 Fleer Card #65: The Mix-Up of Harry & Larry

1960 Fleer Card #65 of Harry Heilmann
(photo is actually Larry Woodall)
Old Cardboard reader Matthew Clifford has found a previously unreported error in the identity of a player in 1960 Fleer "Baseball Greats" set (see card at right labeled as that of Harry Heilmann).
It all started, according to Clifford, when he found an old photo of Ty Cobb standing with six members of his 1923 Detroit Tigers staff (see black and white image below). The photo included the Tigers' reliable right fielder and Hall of Famer Harry Heilmann along with Detroit's backstop, Lawrence "Larry" Woodall.
After careful examination of the 1923 photo displaying both Harry and Larry together, Clifford recalled the 1960 Fleer card attributed to Hielmann. Upon further comparison of the images, he determined that the image on Heilmann's Fleer card was in fact that of Larry Woodall. This identification has been further verified by SABR photo ID expert and Old Cardboard author Mark Fimoff.
Curious as to the identity of the other players in the old black and white Detroit photo, Clifford identified all seven of them. As noted at the bottom of the image, they are, from left to right: Bob Fothergill (face barely visible), Johnny Bassler, Bob Veach, Larry Woodall, Fred Haney, Harry Heilmann and Ty Cobb.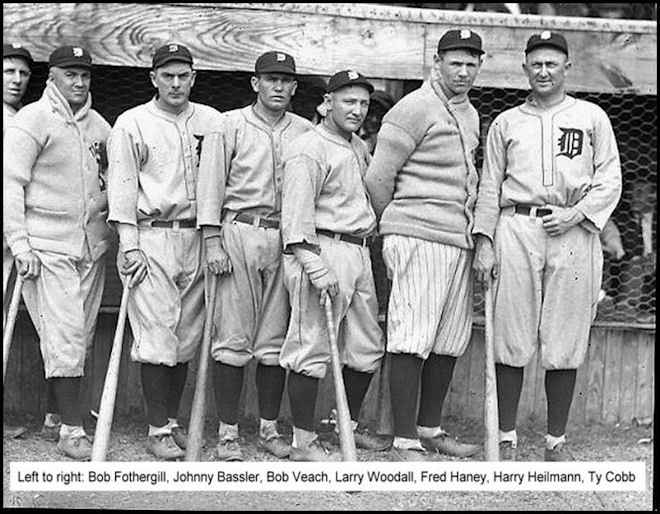 Photo of Partial 1923 Tigers Lineup
| | |
| --- | --- |
| 1928 Exhibit Larry Woodall | |
The front of card #65 shows a portrait of Lawrence Woodall above the title "Harry Heilmann" printed in white all-capital lettering. The back of the card provides a correct synopsis of Heilmann's baseball career as well as accurate statistics from his playing days.
For further comparison of images, a 1928 Exhibit card of Larry Woodall is provided at left.
Heilmann won the American League batting crown in 1921, 1923, 1925 and 1927. Along with his batting titles and heavy swing, Harry earned the accurate nickname "Slug." He was truly one of baseball's greatest players and shortly after his death in 1951, earned a place in the Baseball Hall of Fame (Class of 1952).
Woodall spent ten years in the majors as a prominent catcher for the Detroit Tigers. During his decade wearing the "D", Woodall shared the playing field with his equally aged teammate, Harry. The Motor City bid farewell to both players in 1929. Soon after Woodall handed in his Detroit stripes in May, Slug followed suit in October after the Tigers traded the slugger to the Cincinnati Reds.
After a comprehensive search of both the Internet and recently published checklists and price guides, Clifford has not found any reference to the error in the Heilmann card. According to Clifford, "I am surprised that this error has been unnoticed and unreported for fifty-one years. Harry never had a chance to see the mistake himself since he passed away nine years before the card was created."
"Woodall died in 1963," continues Clifford, "but I doubt he was collecting Heilmann cards during the last three years of his life. For the record, Fleer's 1960 Baseball Greats did not include Lawrence Woodall in their series checklist. Although he's not accurately identified in the series, there's no question that Larry's face will be recognized as a permanent addition to the collection. To their credit, Fleer printed an accurate picture of Heilmann on Card #24 in their 2001 set titled, "Feel The Game Classics--Greats Of The Game."
A Set Profile along with a Set Checklist for the 1960 Fleer "Baseball Greats" cards have been added to the Old Cardboard website. A full Set Gallery is planned for the near future.
---
5. News Briefs (A Digest of Recent Hobby Happenings)

Hugh Hi-Grade Collection Now On Sale. Virtually all of the vintage hobby's hallmark sets, from the Allen & Ginter issues of the late 1880s to the post-War Topps and Bowman issues are represented, many among the finest sets on PSA's Set Registry. Included within those sets are some of collecting's truly iconic cards, such as the T206 Honus Wagner (PSA 2), T206 Eddie Plank (PSA 5), 1909 American Caramel Joe Jackson rookie (PSA 4), 1915 Cracker Jack Jackson (PSA 8), 1916 Sporting News Babe Ruth rookie (PSA 6), 1933 Goudey Nap Lajoie (PSA 9) and 1952 Topps Mickey Mantle (PSA 8). For now, all are being offered by Memory Lane Auctions as complete sets. Many are 'master sets' featuring hard to find variations.
---
Lyman and Brett Hardeman
Old Cardboard, LLC.
Old Cardboard, LLC. was established in December 2003, to help bring information on vintage baseball card collecting to the hobbyist. Produced by collectors for collectors, this comprehensive resource consists of three components: (1) Old Cardboard Magazine, (2) a companion website at www.oldcardboard.com and (3) this eNewsletter. The Old Cardboard website contains more than 500 pages of descriptive reference information for baseball card sets produced fifty years ago or longer. Each of these set summaries has a direct set-specific link to

auctions and a similar link to

's powerful search engine for further research. The website also includes a Show and Auction Calendar, an eBay Top 50 Vintage Sellers List, and much more. As a result, the Old Cardboard website makes a great "Alt-tab" companion for vintage card shoppers and researchers. Old Cardboard eNews provides current hobby news, upcoming shows and auctions, and updates to the website and the magazine. It is published around the middle of each month. For a FREE subscription to the eNewsletter, or for subscription information on Old Cardboard Magazine, please visit the website at www.oldcardboard.com. If you find this information resource helpful, please tell your friends. We need your support and your feedback. Thank you.