2. Set Profile: 1933 PX3 Buttons

Gum, Inc. issued this 43-player set of metal buttons around 1933. The buttons are not listed in the American Card Catalog. They were first cataloged as set PX3 in The Sports Collectors Bible and now carry that hobby designation.

The player images (all portraits in uniform) are printed on metal disks measuring about 1-1/4 inches in diameter. They are found with white, red, blue, yellow and green tinted backgrounds. The player's name and team are printed near the bottom of each disk, followed by a number ("1" or "2") inside a small circle.

The "1" and "2" indicate the size of the button, with the "2s" produced slightly smaller so that the "1" and "2" buttons will fit together to form a double-headed "coin."

Note: each player button can be found in more than one color. However, for a given player, it always has the same number (either "1" or "2") printed at the bottom.

The button backs are blank. They were originally produced with a shiny metallic surface although some are found today with a darker gray-brown tarnish.

There is no additional labeling on the buttons to indicate their manufacturer or how they were distributed. Most of the information revealing their origin is derived from the very rare wrappers (among the rarest of all early gum issues) in which the buttons were distributed.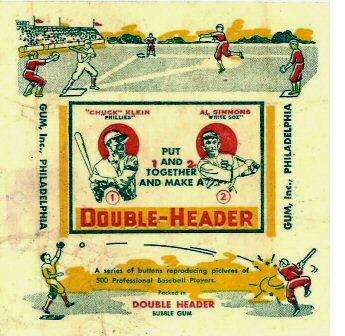 As indicated on the example wrapper at right, the buttons were distributed in packs of bubble gum with two buttons inside each pack. This if further confirmed by a one-of-a-kind unopened pack sold in 2011 by Robert Edward Auctions.
The wrapper indicates that the disks were packed in "Double Header Bubble Gum" by Gum, Inc. of Philadelphia.
Curiously, the wrapper states that the buttons were part of "a series of buttons reproducing pictures of 500 Professional Baseball Players."
With buttons for only 43 players known by today's collectors, the whereabouts of the missing 457 players remains a hobby mystery. It is a mystery not likely to be resolved soon, however, since the 43-player checklist has remained unchanged for at least three decades.
The full Player Checklist and very colorful Set Gallery for the PX3 Double-Header set is provided on the Old Cardboard website. Columns in the Checklist have been added for the player's team (the team city and team nickname as printed on the buttons) and whether it is a side "1" or side "2" button.