2. Larry Semon's 1920 Baseball Memorabilia Purchase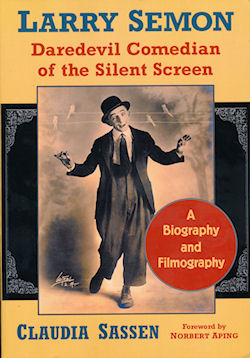 One interesting fact in a recently released biography of cartoonist, silent film star and baseball fan Larry Semon reveals that in September of 1920 Semon purchased a baseball and bat signed by Babe Ruth (it was the end of Ruth's first season with the Yankees). The purchase price was $500. Reported in the December 1920 issue of Photoplay Magazine, it was no doubt among the earliest recorded sales of baseball memorabilia. The transaction was part of a charity event honoring World War I vets. The event was held at the then-posh Alexander hotel in downtown Los Angeles.

Semon posing as a catcher.
(ca. 1915; Photo by Paul
Thompson; image provided
courtesy of Claudia Sassen)


This and countless other details about Semon's short but colorful and excentric life is detailed in "Larry Semon: Daredevil Comedian of the Silent Screen" by Claudia Sassen (McFarland, 2015; www.mcfarlandpub.com).

Interestingly, the author is an accomplished cartoonist in her own right. For more than three decades, she has been actively researching Semon and his legacy as a cartoonist and silent film star and producer.

Sassen's book is naturally focused on Semon's film career but contains numerous references to his early career as a newspaper cartoonist and his lifelong interest in baseball. Her 250-page book is printed in an oversize (7 x 10-inch) format and contains nearly 100 illustrations.

Although Semon was well known early in his career as a syndicated cartoonist, he gained far greater worldwide fame as a silent film star and producer of dozens of films in the early 1920s. Among his better known (but not necessarily most widely acclaimed) films was an early (silent film) version of "The Wizard of Oz."

Outside the United States, Semon was perhaps even better known in Europe where his films were widely distributed with subtitles in German, Spanish, French, Italian, Czech, Dutch, Danish and possibly more. It was Semon's European fame that inspired the Germany-based author to research and compile Semon's biography. According to Claudia, she "was constantly confronted with his films from the age of 2 or 3 years on. They were shown on German TV--in the seventies on a weekly basis and in the eighties on a daily basis."
| | |
| --- | --- |
| | Examples from each of Semon's two 1914 baseball sets include a Ty Cobb postcard (above) and a newspaper supplement featuring Jim Thorpe (right). |
Larry Semon is known to longtime vintage baseball card and memorabilia collectors as the creator of two obscure sets--both distributed in 1914 by the New York Evening Sun. One is a set of 7 postcards featuring leading players of the period (six of the seven players have since been inducted into the baseball Hall of Fame). The other is a series of 21 newspaper supplements featuring members the 1914 New York Giants team. The supplements are printed in a 9 x 12-inch format and include standouts Christy Mathewson, John McGraw, Rube Maquard, Wilbert Robinson and Jim Thorpe.

Examples from both sets are illustrated (with different players than shown here) in Sassen's book. Both sets are also listed in the Krause Standard Catalog of Vintage Baseball Cards and both are profiled along with complete galleries on the Old Cardboard website.

Additional details about Semon's baseball card sets (also including full galleries for each set) are provided in an eight-page article, "The Baseball Artwork of Larry Semon: A Prelude to Silent Movie Stardom" in Issue #28 (Fall 2012) of Old Cardboard magazine.