2. Set Profile: 1948 R346 "Blue Tints"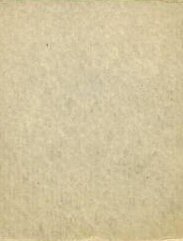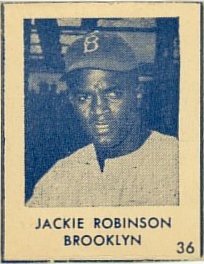 Taking its name from the blue tint used in printing the cards, this 48-card 1948 set was assigned the designation R346 in the American Card Catalog. They might more appropriately have been designated with a "W" prefix, however, since they were originally produced and sold in vertical strips of eight cards each.

The numbered blank-backed cards are somewhat crudely printed on light brownish-yellow stock. The player's name and team are printed in the lower margin, also in blue ink. The card numbers are located in the lower right corner. All R346 cards have blank backs.

The set is skewed toward New York teams, with half of the set (24 players) identified as members of either the Giants, Yankees or Dodgers.

There are a number of errors and variations in the R346 set. One of the errors (perhaps better described as a "comedy of errors") is the mis-labeling of card number 23.

An example of card #23 is shown at left. The card is labeled "Harry" Majeski, despite the fact that Majeski's first name was "Henry" and most of his fans called him "Hank." All of this may seem a little irrelevant, however, given that the image of the player on the card is actually that of Randy Gumpert!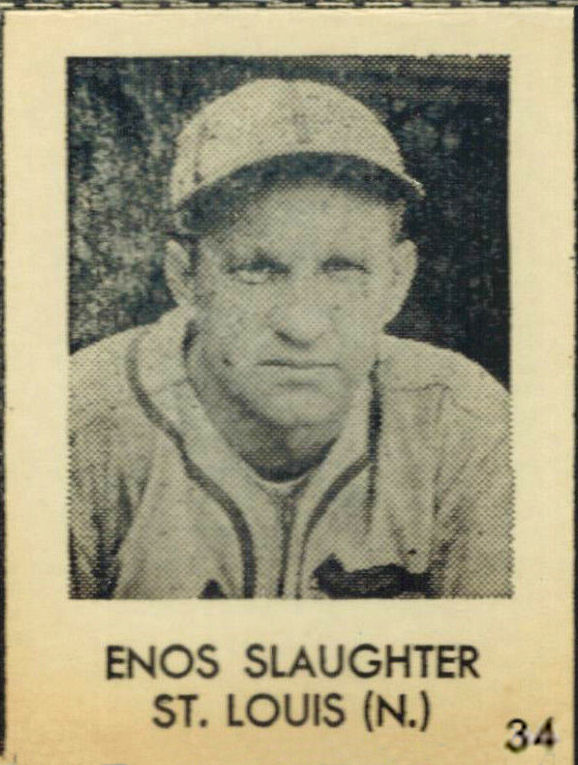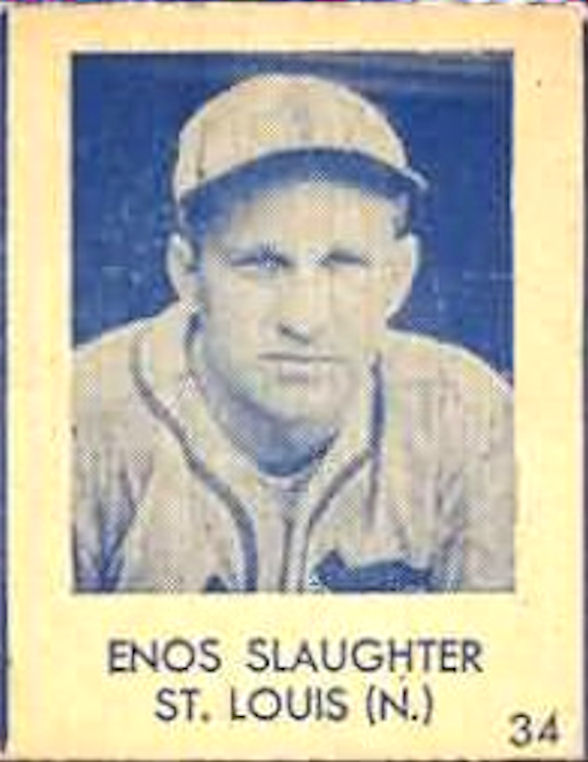 Variations in the "Blue-Tint" set include some cards (generally those with higher numbers) that are also found printed in black (rather than blue) ink. The images at right illustrate both the blue and the black-printed cards of Hall of Fame outfielder Enos Slaughter (card #34) .
It should also be noted that the last card in the set (card #48, Charlie Keller) is found both with and without the card number printed at the lower right corner. In addition, the team labeling is omitted on two cards in the set (card #29, Lou Gehrig, and #35 Hank Greenberg). Examples of both cards are shown below.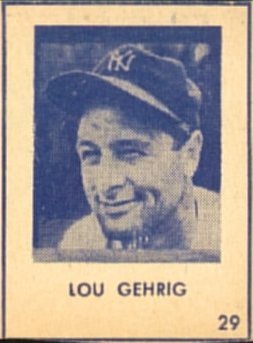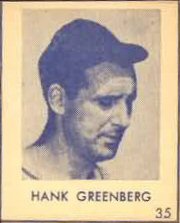 Other variations of note: (1) Card #2 (Leo Durocher) has variations showing him with either the Dodgers or the Giants; (2) Card #18 (Mel Ott) has variations showing him with the Giants and with no team identification.
Proof cards have been reported to have printing on the back indicating that the R346 player photos were taken by Al Weinstein of Brooklyn.
The issuer of the R346 set is currently unknown.
As noted, the series was classified as an "R" (Gum and Candy) set in the ACC. However, longtime collectors even today (nearly 70 years later) remember the cards being sold in strips of eight at dime and novelty stores of day, and not associated with the distribution of candy. Adding to the confusion in nomenclature, the cards are referenced as both "R346" and "W518" in the Sports Collectors Bible.
A Set Profile, Player Checklist and Gallery of Cards for the R346 set is provided on the Old Cardboard website.