The cover and the table of contents for Issue #7 are shown below.
| | |
| --- | --- |
| Issue #7 Cover | Issue #7 TOC |
Articles in the issue are written by some of the hobby's most informed experts and about some of it's most interesting vintage sets. They include:
1) "1912 T202 Hassan Triple Folders: A New Look at this Popular Set." Co-authors Lee Behrens and Brian Hodes, each of whom have put together complete 132-card runs of T202s, share what they learned in the process. The article includes a full checklist, a player end-panel cross-checklist, and a one-page sidebar that describes the only known three-panel in-store display used to promote the set and its sponsor, Hassan cigarettes. The impressive 1912 display was only recently discovered and is slated for auction this Spring.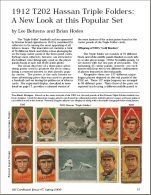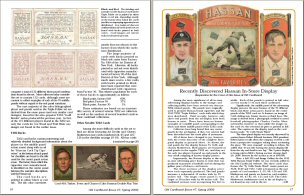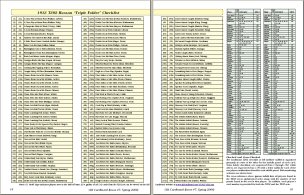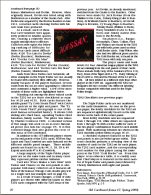 ---
2) "1914 E224 Texas Tommy: Elusive Set with an Exotic Name" by John Esch. From the author who brought us the article on M128 Police Gazette Supplements (see Old Cardboard Issue #4), we now have a detailed account of the E224 Texas Tommy series. Galleries for both Type 1 and Type 2 subsets are presented, along with recently discovered background information about the company that produced the 1914 set.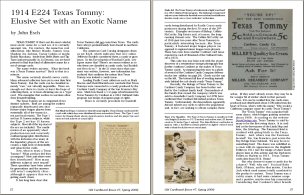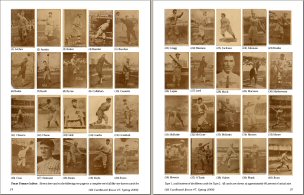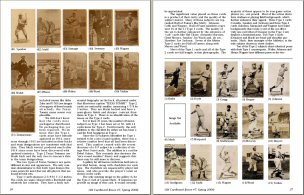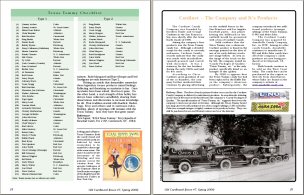 ---
3) "Fine, Wide and In Between: The 1930s 'Pens' Premium Sets -- Part II (R314 and Variations)" by Tim Newcomb. The second of a very popular two-part series in which the author reports his findings about these widely distributed premium sets of the mid-1930s. This article focuses on the R314 Goudey "Wide Pens" and other related sets issued by Goudey Gum and its Canadian counterpart, World Wide Gum, beginning in 1935.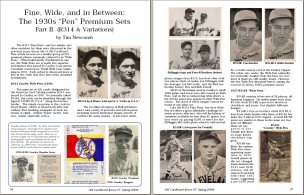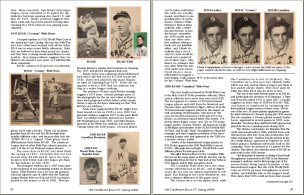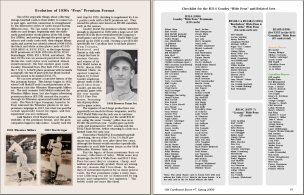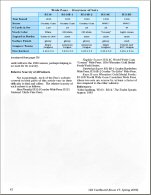 ---
4) "1859 Showdown at Hoboken (as reported in Harper's Weekly)" by Lyman Hardeman. A brief but revealing article about "base-ball" the way it was played nearly a century and a half ago. The narrative is based on a report printed the Harper's Weekly issue of October 15, 1859. It is illustrated by a panoramic woodcut image of a game played the previous week at Elysian Fields in Hoboken, New Jersey.
---
To order your copy of this and other issues of Old Cardboard, go to subscription details.