The cover and table of contents for Issue #19 are shown below.
| | |
| --- | --- |
| Issue #19 Cover | Issue #19 TOC |
The articles in this issue include:
1) "1889 The Stage 'Stars of the Diamond:' A Rare Large-Format Set of 14 Players" by Lew Lipset. Expanding on an article published twelve years ago in VCBC, author Lew Lipset describes in detail the baseball portraits provided as a weekly "bonus" between May 25 and August 31, 1889. All fourteen of the weekly supplements are listed in a set checklist and pictured in a gallery, along with summary information on the newspaper, the photographers and the narrative that accompanied each image.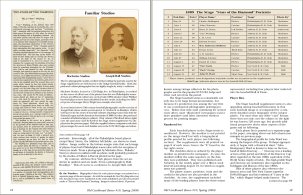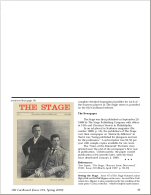 ---
2) "'Chicago Cubsí Story' (A 1929 Perspective)" by S. O. Grauley. A 1929 supplement from the Philadelphia Inquirer serves as the centerfold of this issue of Old Cardboard magazine. Related text found on the back of the supplement written by S. O. ("Sog") Grauley, a longtime Inquirer sportswriter and charter member of the Baseball/Writers' Association of America, provides a 1929 perspective of the Cubs road to achieving the National League pennant that year.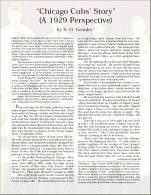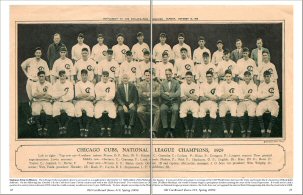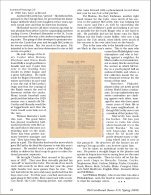 ---
2) "1909-1913 Colganís Baseball Sets: Packed with 'The Gum Thatís Round'" by John Spano. With input from leading collectors of the Colgan's set, second-time Old Cardboard author John Spano compares the three Colgan's baseball card sets: the E254 "Stars of the Diamond," the E270-1 "Red Borders," the E270-2 "Tin Tops" and more. Side panels on the life of John Colgan and the eight variations of the Colgan's round tin containers are also provided, along with examples of period advertising and promotional premiums.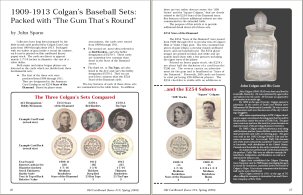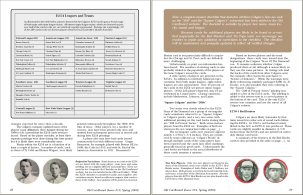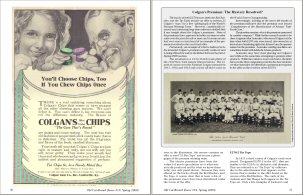 ---
3) "1887 H804-21 Tobin Lithographs: The 'Cadillac' of BB Trade Cards" by Old Cardboard Staff. This series of trade cards, considered by author and long-time collector Frank Keetz to be the "Cadillac" of baseball trade cards, is unique in that it labels the caricatures with names of actual players of the period. A gallery of all 10 cards in the set is provided along with examples from two sister "Tobin" sets printed in black and white.
---
In addition to the above articles, all issues of Old Cardboard magazine include regular sections for Editor's Notebook, Collector's Dugout, the baseball and baseball-card-themed Old Cardboard Crosswords, informative messages from our sponsors, and more.
To order your copy of this and other issues of Old Cardboard, go to subscription details.