The cover and table of contents for Issue #22 are shown below.
| | |
| --- | --- |
| Issue #22 Cover | Issue #22 TOC |
The articles in this issue include:
1) "1932 New York Giants Schedule Postcards" by Jim Van Brunt. Van Brunt profiles this difficult-to-complete set of 1932 postcards. All are action poses of the Depression-era Giants. Includes discussion of known variations and a Gallery of the full 22-card set.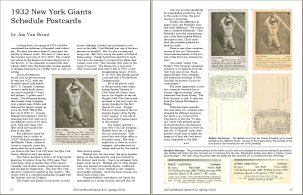 ---
2) "Cuban Baseball Cards: The Golden Years 1909-1950" by Cesar S. Lopez. Veteran Cuban card collector and SABR researcher Lopez surveys all major Cuban baseball card sets from the first half of the twentieth century. More than 30 card sets from Golden Years of Cuban baseball are profiled along with images of representative cards from each set.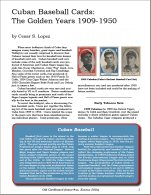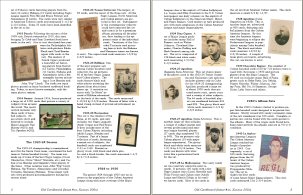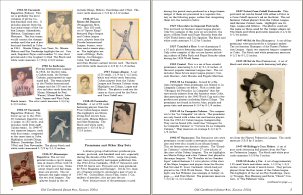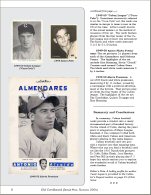 ---
3) "Newspaper Ads Pinpoint Origins of 1934 D328 Tarzan Bread Cards" by Lyman Hardeman. Two recently discovered newspaper ads from the Detroit Times pinpoint for the first time the sponsoring bakery and exact date of issue for the D328 Tarzan Bread set. Also revealed are details of the redemption promotion that explains why Tarzan Bread cards are hand cut on the bottom edge.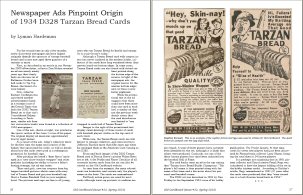 ---
4) "1915 B&W "Mystery Cards Use M101-4; M128 Poses" by Lew Lipset. Hobby veteran Lipset documents details of an astonishing discovery of 25 cards from an obscure set previously checklisted with only 15 known cards. Includes a Gallery of all 27 now-known poses in the set as well as the identification of the same poses found in the M101-4 and M128 issues.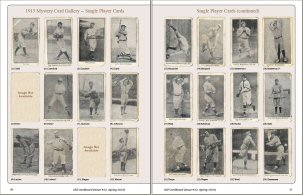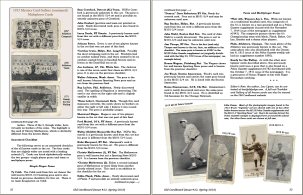 ---
In addition to the above articles, all issues of Old Cardboard magazine include regular sections for Editor's Notebook, Collector's Dugout, informative messages from our sponsors, and more.
To order your copy of this and other issues of Old Cardboard, go to subscription details.