The cover and table of contents for Issue #25 are shown below.
| | |
| --- | --- |
| Issue #25 Cover | Issue #25 TOC |
The articles in this issue include:
1) "The Woodcuts & Other Collectibles of The Sporting Times (1888-90)" by Lew Lipset. Hobby veteran Lipset takes a comprehensive look at the little known facts about this obscure newspaper. Several sets of known supplements, premiums and woodcuts produced by the paper are described, along with an informative ad printed in the Times that checklists cabinet premiums sponsored by rival newspaper The Police Gazette.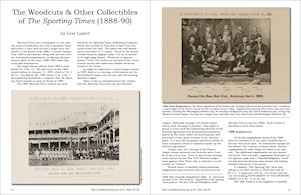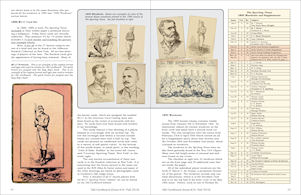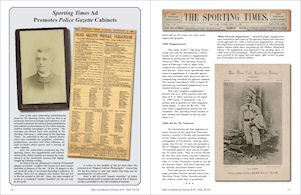 ---
2) "1888 WG1 Playing Cards: The Top 9 From Each of 8 Teams" by Kevin Struss. The basics of this very interesting set of 72 cards that uniformly represents 9 players (by position) from each of the eight National League franchises of the period. Card gallery is arranged for the first time in a revealing centerfold array with each team presented as a column and each player position presented as a row in the matrix.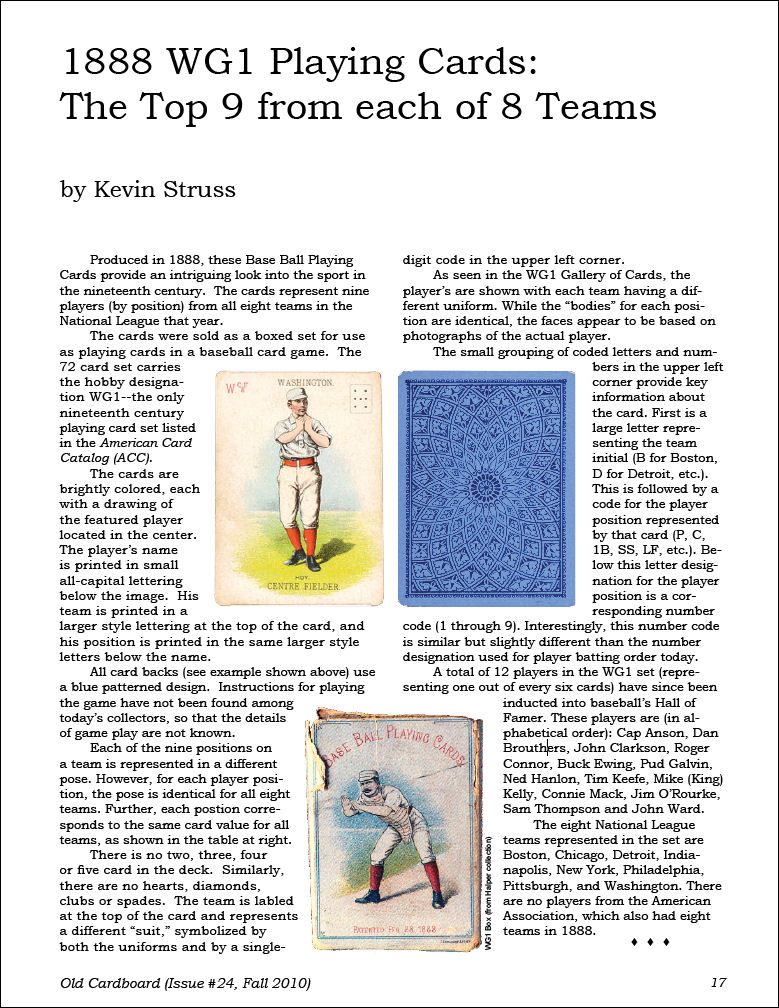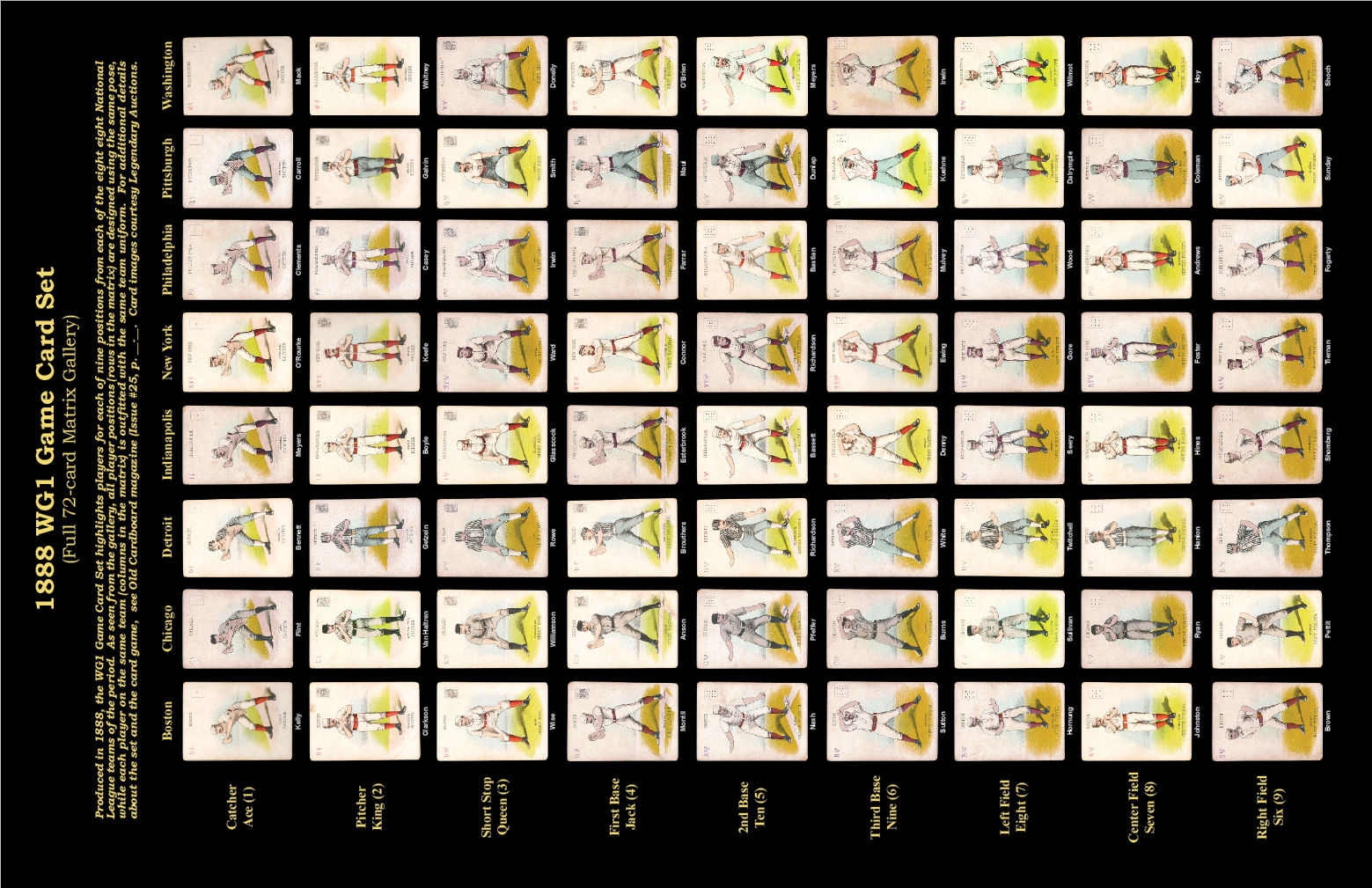 ---
3) "1907 Winthrop Postcards: The Earliest Moving Pictures of Major League Players" by Lyman Hardeman. An overview of this rare postcard flipbook set identifies the three known baseball players from the series (Christy Mathewson, Mordecai Brown and Joe McGinnity). An uncut photo sheet of images used for the Brown flipbbok is described that now resides in the U. S. Library of Congress.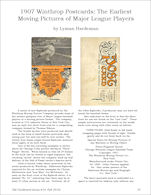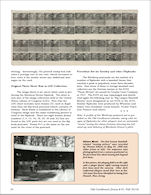 ---
4) "1933 W574 'Ballpark' Set: 29 Cards of Mysterious Origin" by Old Cardboard Staff. An overview of the cards labeled in the American Card Catalog as set W574. The card designs fail to conform to other strip card sets of the period, leading to speculation that they may have been distributed at ballparks. A full gallery of all 29 cards in the set is provided along with examples of the card's two back stock variations.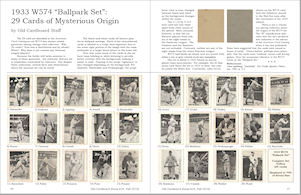 ---
4) "1908 'Our Home Team' Foldout Postcards" by Lyman Hardeman. This set of only five known postcard foldouts is described along with fully expanded views of the player panels for all five cards. A complete checklist of players is provided for the first time for each of the five teams represented.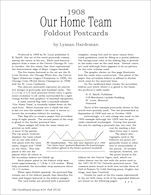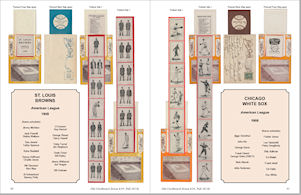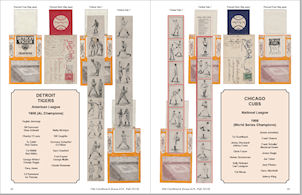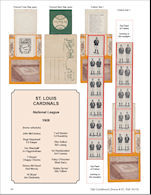 ---
4) "Conrado (Connie) Marrero: Tribute to 'An Old Cuban'" by Lyman Hardeman. A brief tribute to Connie Marrero, the oldest living baseballer that played in the Majors, keyed to a recent pre-celebration of Marrero's 100th birthday this April 25. Several of Marrero's more notable collectibles are also presented.
---
In addition to the above articles, all issues of Old Cardboard magazine include regular sections of Editor's Notebook and Collector's Dugout as well as informative messages from our sponsors.
To order your copy of this and previous issues of Old Cardboard, go to subscription details.