The cover and table of contents for Issue #28 are shown below.
| | |
| --- | --- |
| Issue #28 Cover | Issue #28 TOC |
The articles in this issue include:
1) "T209 Contentnea Spotlights Mid-Atlantic Minor Leaguers (Part II, 'Photo Series')" by Michael Peich and Tim Newcomb. Two long-time collectors and researchers continue their detailed look at the T209 Contentnea card sets. Part II, printed in this issue, takes a close look at the 224-card T209-2 black-and-white "Photo" series. The much smaller 16-card "Color" series was described in Issue #27.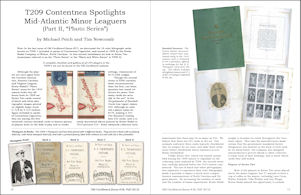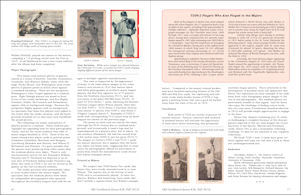 ---
2) "1905 PC782 Rotographs: 'The Postcards of Quality'" by Jeff Prizner. Dallas collector Prizner describes the ins and outs of this eight-card set of real photo postcards. Background information about the photographer (Carl Horner) and the company that produced the cards (Rotograph) is also provided along with a gallery of all eight cards in the set displayed across the centerfold of the magazine.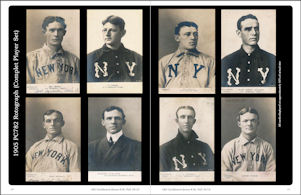 ---
3) "The Baseball Artwork of Larry Semon: A Prelude to Silent Movie Stardom" by Lyman Hardeman. Before Larry Semon gained fame as a silent movie producer, director and international superstar, he provided the artwork for two little-known but highly sought baseball sets (one of Postcards and the other of newspaper Supplements) that date back to 1914. Full galleries for both (issued by the New York Evening Sun) are displayed along with details of Semon's amazing but short career in the fast lane.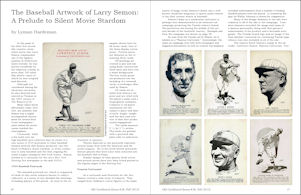 ---
4) "Burr McIntosh Photoprints: Baseball in a 'High Society' Magazine" by Old Cardboard Staff. In its time, The Burr McIntosh Monthly was cast as a "High Society" publication packed with quality images from the worlds of theatre, opera, business, politics and sports (including baseball). This article provides a brief summary of the fourteen baseball-related photos printed during the magazine's seven year run..
---
In addition to the above articles, all issues of Old Cardboard magazine include regular sections of Editor's Notebook and Collector's Dugout as well as informative messages from our sponsors.
To order your copy of this and previous issues of Old Cardboard, go to subscription details.